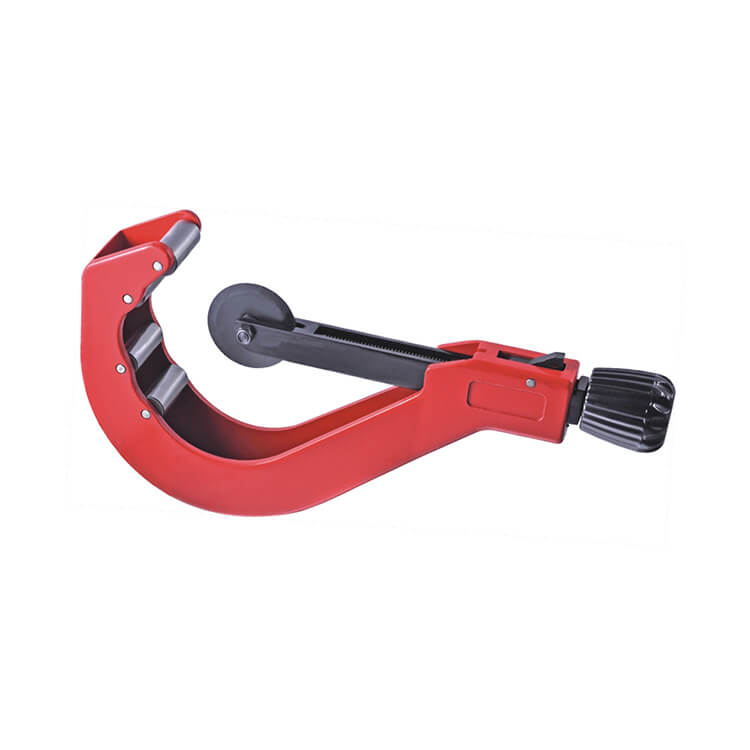 A pipe cutter is mainly used by plumbers for cutting pipes. Having the right pipe cutter can make any plumbing project easier. There are multiple types of pipe cutters on the market, and each one is best suited to cut different types of pipe such as PVC, ABS, Cast Iron, or PEX and each has a cutter that is specifically meant for them. Before choosing one, we will give you insight into each type, so that you can make the best choice for you and your most common jobs.
Types Of Pipe Cutters

Depositphoto.com
1. Copper Tube Cutters
As the name suggests, this cutter is designed to cut copper tubes, and it can cut both rigid and flexible copper tubing. Although copper tube cutters can also cut pipes made from other materials, it is not recommended as it tends to dull the blades.
2. Steel Pipe Cutters
This pipe cutter has a thicker and stronger cutting wheel to cut through the harder walls of iron or steel pipes, which is extremely difficult to cut any other way. They work by making a straight cut into the tube.
3. Cast Iron Snap Cutters
The snap cutters are chain-type cutters and are used to cut clay, concrete, and cast-iron pipes. They work with a chain fitted with sharp cutting discs that neatly snaps the piece once the chain is tightened around the pipe.
4. PVC Tube Cutters
A PVC cutter is designed to cut PVC pipes of up to 2 inches in diameter. It works with a ratcheting mechanism; it functions by placing the tube on a stable surface, lining the blade on the cut mark, and squeezing the handles together to neatly cut the pipe.
5. CPVC and PEX Cutters
This type is similar to PVC cutters. The only difference is that instead of a ratcheting mechanism, it cuts through soft tubing with a single squeeze of the handle.
Pipe Cutters: Things To Consider
What material can a cutter be used on: It is essential to consider the types of cutting pipes so that the pipe cutter that you want to purchase is able to get the job done easily. Most good-quality pipe cutters can cut pipes from various materials such as plastic, copper, steel, and aluminum. There are some cutters that are more versatile which will save you some money, and you will be able to deal with multiple types of pipes with one tool, but they can be more expensive upfront than single material cutters.
1. The Capacity Of Pipe Cutter:
It is essential to pay attention to the minimum and maximum diameter of the pipes that the pipe cutter can work on. Don't splurge and get the largest pipe cutter you can,  if you generally work on smaller pipes; get one that is the most convenient for transporting with you.
2. How The Pipe Cutter Is Powered
The pipe cutters come in different variations such as electrical, pneumatic, hydraulic and manual variations. The most common type is manually powered pipe cutter as they are usually inexpensive and suitable for personal use. However, if you are looking for something to use to cut large pipes, then electrical pipe cutters which are run by motors are more suitable.
3. Cutting Speed Of Pipe Cutter
The best pipe cutters can cut smoothly and quickly. The faster the tool cuts, the better the quality of its blades and more time you have to complete the job, which leads to ensuring that you get a clean and perfect cut without particulates or dust.
Additional features
Some other features to look for in a pipe cutter are the availability of an integral reamer and also a textured exterior to provide a firm grip. The reamer also helps to cut pipes neatly.
Knowing what kind of pipes you will be cutting and how frequently you will be using your pipe is a perfect place to start when buying a pipe cutter. If you are a plumber, tradesman, or DIYer, you may need hand tools to complete all of your tasks like a professional; one of the best ways to do this is to use any of our selection of hand tools. All of our hand tools are backed by a limited lifetime guarantee & 100% satisfaction warranty and 30-days risk-free returns to give you peace of mind.
Shop Our Professional Pliers