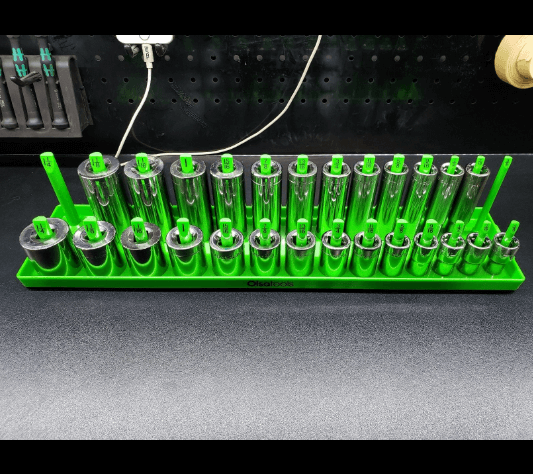 Socket Organizer Trays
It's been a while that you can't find the right socket while working in your garage, right? Maybe that's why you are reading our new blog post right now. Sometimes socket organizer trays can be as important as sockets themselves. It's crucial to invest in good sockets but it's also vital to take care of them by organizing in a proper manner.
Individual Socket Trays
Olsa Tools has several solutions to organize your sockets but today we've decided to present to you our Individual Socket Organizer Trays. This item is everything you have ever hoped for. It will organize your sockets so whenever you need one you can find it right away. This can help you save a significant amount of time, be more efficient, work faster and eliminate socket chaos for once and for all.
Sockets Within Reach
With Olsa Tools' Socket Holder Tray, the correct socket is always within easy reach. The individual Socket Organizer Trays Work great with 1/2" drive sockets, ranging from 3/8" to 1-1/2". The individual socket organizer trays have been created to help you. The Olsa Tools' Plastic Socket Tray holds up to 34 sockets so that you have plenty of space to organize your tools! All sizes are marked on socket organizer tray and you can quickly identify "the" socket you need at that moment.
Durable Materials
For all our products we use extremely durable material that holds your sockets and makes them accessible to you. While creating our Individual Socket Organizer Trays we always choose durable ABS plastic that has a strong resistance to corrosive chemicals such as oil and gas. The Metric Socket Storage Trays makes it easier to put on and remove your sockets and has marked labels to easily identify the sizes for faster access.

Olsa Tools' portable Socket Tray with handle will help to declutter your Toolbox/Tool chest. In addition, they will help arrange all your sockets into a smaller space! Make sure to browse through the best socket organizers in the market.