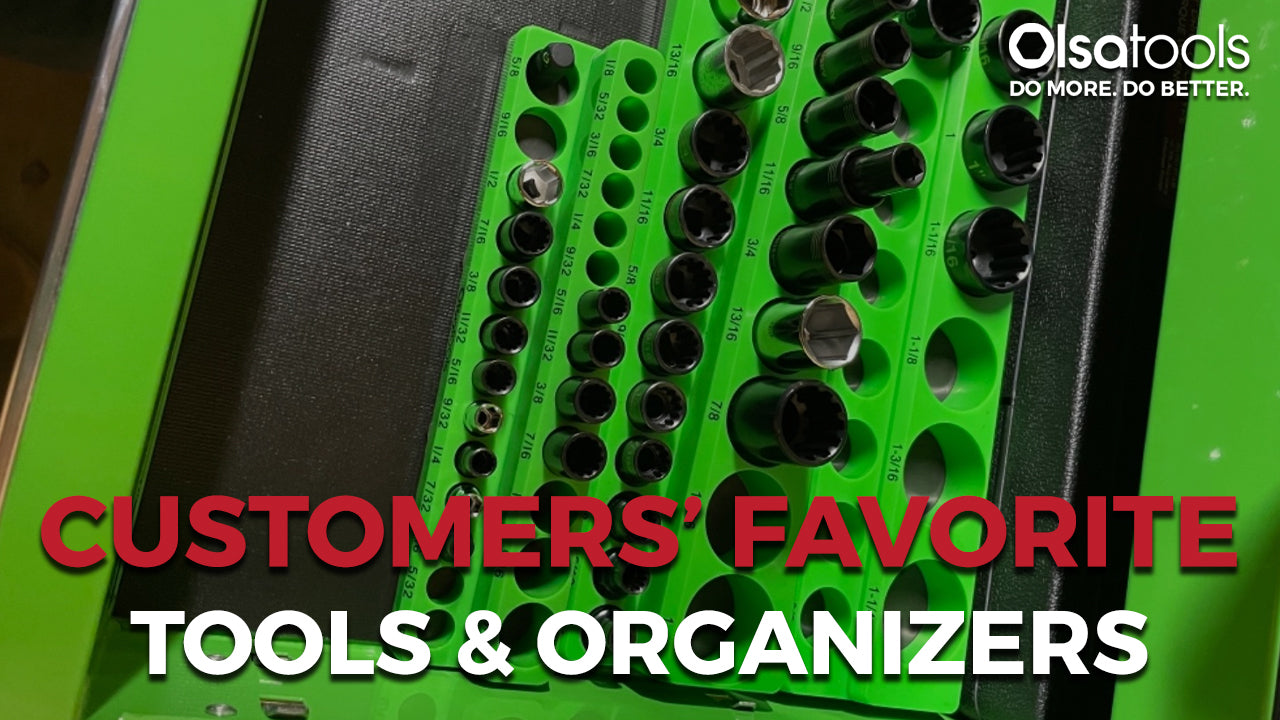 Most mechanics and handymen have tools that they can't live without, our customers are not the exception. Thanks to the enthusiastic reviews they leave about their top product choices, we have all the insight about our customers' most beloved tools. We've highlighted 8 of them; from life-saving hand tools, tool organizers, and accessories, you will surely find something of your interest. Let's get down to your favorite products!
When it comes to our customers' favorite tool organizer, our magnetic socket holder wins the trophy. This is our number 1 top-ranked product. The strong rare-earth magnets, compactness, and clearly labeled slots for easy identification, allow you to complete the job without the stress of losing your sockets or having a messy pile of tools in your drawers. The holders are available in 8 striking colors to match your workstation.
Our aluminum socket rails have gained their spot! This easy-to-use system offers a customizable organizational solution for your full set of sockets. The set comes with ABS clips that have spring-loaded ball bearings that you can place on both sides of the rails. The locking end caps make sure that your sockets stay put and secure for you to be ready to grab the socket you need. Also, to give you greater chances of customizing your toolset, the socket rails come in 7 striking colors. 
This is another tool organizer that's worth your consideration. Bits are such small items that are very easy to lose, this is when a magnetic bit organizer saves the day. This set is built to hold 36 of your 1/4 inch hex bits, you won't need to sift endlessly through your drawer trying to find the right one as this tool organizer keep your bit perfectly secure to the magnetic base and within arm's reach. 
Like all of the magnetic tool organizers available on this list, this magnetic wrench organizer is designed to be stored almost anywhere! The magnetic base not only can be attached to most steel surfaces but also protects the mounting surface, this last thing is possible thanks to the ridge that avoids your wrenches from making contact with the metallic surface. 
Unsurprisingly, our chrome sockets are easily one of those go-to tools in our customer's workshops. These Olsa Tools sockets exceed ASME B107.110-2019 specifications by over 30%, they are strong, durable, and feature a tool truck quality but at a fraction of the price. If you decide to buy these chrome sockets, you can be confident that they will become your new favorite tools. 
Our customers love these wrenches because they are super thin. They fit into closely spaced spots but are strong enough to torque and deliver professional-grade results. Thin wrenches are very important tools when working on cars, motorcycles, or bicycles because you always find yourself trying to fit in hard-to-reach places where none of your regular wrenches will fit in. 
Ratchets are a priority, and when it comes to swivel head ratchets, the benefits are better. The fork split of the tool allows a slight flexing of the ratchet when high torque is required, delivering exceptional performance while working in narrow spots. This is one of those mechanic tools you need to keep close by if you work in professional environments.
This is the perfect companion for mechanics that are working on heavy-duty projects. What makes this torque wrench one of the most used mechanic tools is its accuracy. You just need to put the desired torque level and the torque wrench will help you to complete the job without the irritation and stress of overtightening your fastener. These torque wrenches are also ideal for breaking loose a rusted, stubborn, or tight fastener that you might not loosen using another type of tool.
Final Thoughts 
This list is a great place to start if you are thinking about adding some mechanic tools to your wish list. What better way to choose a product than reading what your colleagues have to say about it? This article will give you a fairly good idea of how these tools will improve your work.
Remember that these are not your average trending or seasonal products, these are items you should keep at arm's reach for your everyday projects. They all have a limited lifetime warranty, a 100% satisfaction guarantee, and a 90-days risk-free return policy to give you peace of mind with your purchase. 
Pick The Best Mechanic Tools & Organizer