Customer Reviews
Write a Review
Ask a Question
06/25/2020
Sam M.
United States
Works great
Works just like it is supposed to and easy to use. It has held up great so far but only have had it for a month or so.
06/15/2020
Jason L.
United States
Excellent!
My first split beam type torque wrench. Love that there is no need to unwind it after use, even in a non-frequent use environment. Fit and finish is perfect. Feels substantial in the hand. Very positive feedback when torque is reached. Very happy with it so far!
05/30/2020
Joshua D.
United States
Awesome
Absolutely great tool for the price.
05/07/2020
Jason W.
United States
Awesome
I really like the quality of the tool. Just like Snap On without the snap on head and a little less flex. But $300 cheaper though. Been in automotive repair industry for 26 years always wanted a twin beam torque wrench .just never whated to pay the price for snap on one. Wish I could have found this site earlier.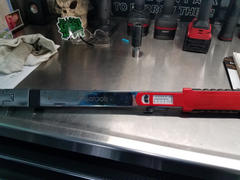 Thanks for the image Jason! We are very happy that you like these Torque Wrench. Feel free to let us know if you have any questions or concerns.
05/05/2020
Bryce H.
United States
Top notch!
This is a great wrench!