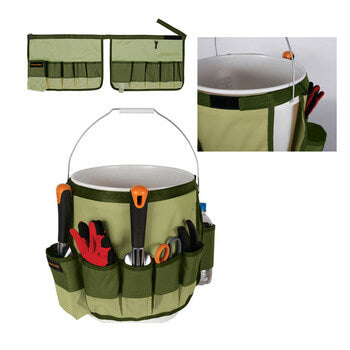 Buying the Best Bucket Caddy
If your tools put food on your table or you simply want to have an organizer to easily carry your tools around, then you need to buy a bucket tool organizer or as we often call them a bucket caddy. It may be hard to find the best bucket caddy in the market but it is totally possible to find one that suits your needs. The best bucket organizers share common features that you must have to check before purchasing one.
Must-Have Bucket Caddy Features:
Size
Prior to choosing a bucket tool organizer, you need to consider the size of the organizer. Bucket caddies come in different sizes. If you have only a few tools to carry around, you can go for the smaller one. But if you have many tools and you want to keep them organized while you carry from one place to another, it will be a good idea to purchase a bigger one with more pockets in it.
Number of Pockets
Without pockets, bucket caddies are just buckets. Think about what kind of tools you are going to store in bucket caddy. Make sure that the bucket caddy that you choose has enough pockets of appropriate size to fit all your tools.
Durability
Another important factor to consider is the durability of the bucket tool organizer. If you don't waste your money, you should go for a durable one. Check the materials used for product manufacturing to make sure that the bucket tool organizer will last for a long time, as you do not want to waste your money.
Bucket Weight
Always pay attention to weight before buying a bucket caddie. If you want to easily carry around the bucket tool organizer you want it to be lightweight.
Price and Quality Ratio
Most people have a misconception that spending lots of money will get them the best product. In reality, quality does not always depend on price. Compare different products by making a list of high-quality products with their price. Choose the one that has an affordable price for you and has the relatively highest quality.
If you usually work with lots of tools but find the tool belts uncomfortable, then bucket caddies can be a good alternative. Considering the above factors before buying one can help you to find the perfect bucket tool organizer for you.