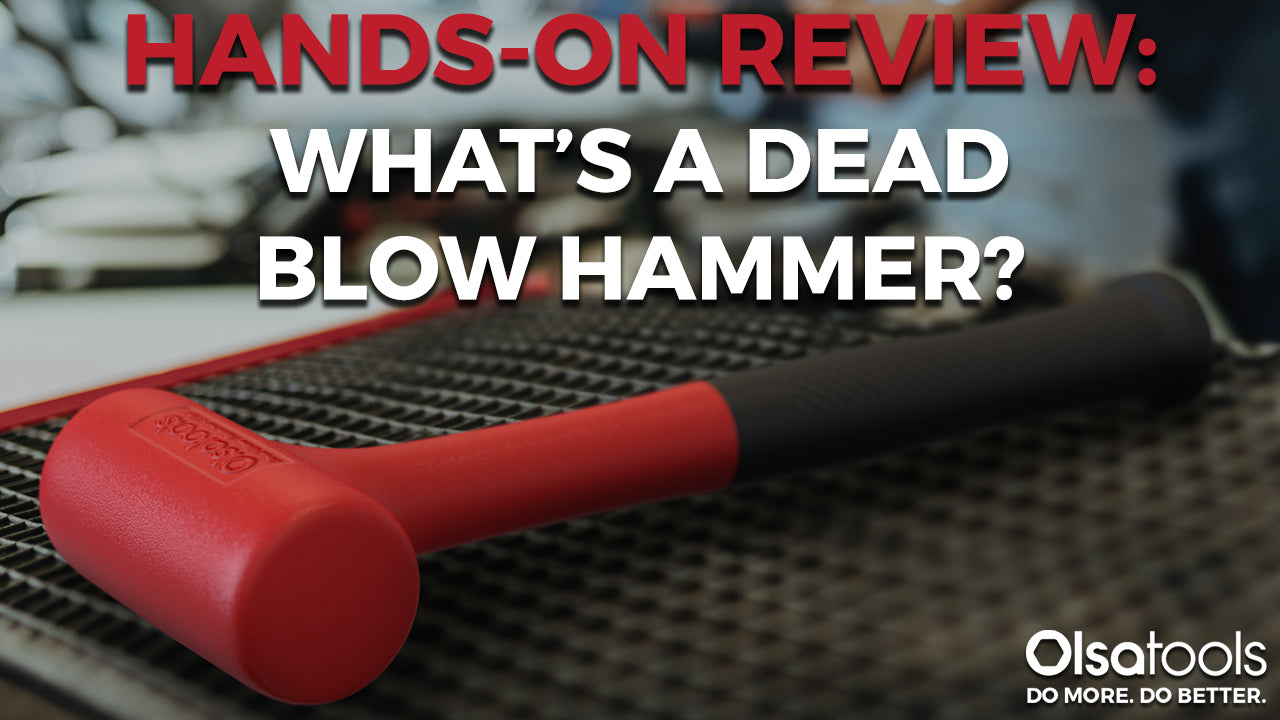 A dead blow hammer is filled with particles in the hollow cavity inside the head so that when you hit something with it, the particles are thrown to the other side of the head, delivering a shock-absorbing effect and generating minimum vibrations compared to regular hammers. This allows the tool to hit strongly but with a non-bound reaction while protecting the workpiece from damage.
There are 3 features you need to consider when looking for the best dead blow hammer for your projects. So, If you've wondered how a dead blog hammer works, here are all the insights that will help you make an educated choice when getting yours.
Features that Make a Professional-Grade Dead Blow Hammer
Shot-Absorbing Design
The head of a dead blow hammer is usually filled with sand, lead shot, steel shot, or any other material that absorbs the beatings. This Olsa Tools dead blow hammer uses a steel shot-filled head that considerably reduces the rebound for a controlled strike that minimizes hand fatigue. If you are wondering what to use a dead blow hammer for, they are great for breaking loose stuck nuts on wheels, dislodging a stubborn stuck part, working on delicate auto bodywork, or another project that requires controlled strikes and damage-free results.
Reliable Materials
If you're looking for a durable tool, the quality of the material is a crucial factor. For quality assurance and usability purposes; the best dead blow hammer is made from materials with different densities in each part of the tool for improved results.
This hammer is perfectly designed to give you versatility during multiple jobs. Use the tool on different surfaces such as metal, wood, or plastic with no worries of damaging your work.
Convenient Weight 
A hammer weight usually ranges from 0.5 to 22 pounds, so it is not hard to get the right one to fit the needs of your project. If you require a precise tool that can withstand both light-weight and heavy-duty tasks, this Olsa Tools 3lb dead blow hammer is your best pick. The hammer provides weighty and controlled strikes, perfect for professional applications.
Pick The Best Blow Hammer For The Job
Now that you know what a dead blow hammer is and how does it works, you can be sure that it'll give accurate and spectacular results when doing the job at hand. This dead blow hammer is your most fitting option, it features a striking red color for easy identification and it will be your new go-to hand tool. Plus, it has a limited lifetime warranty, a 100% satisfaction guarantee, and a 90-days risk-free return policy for peace of mind.
Check Out Our Dead Blow Hammer & Other Tools