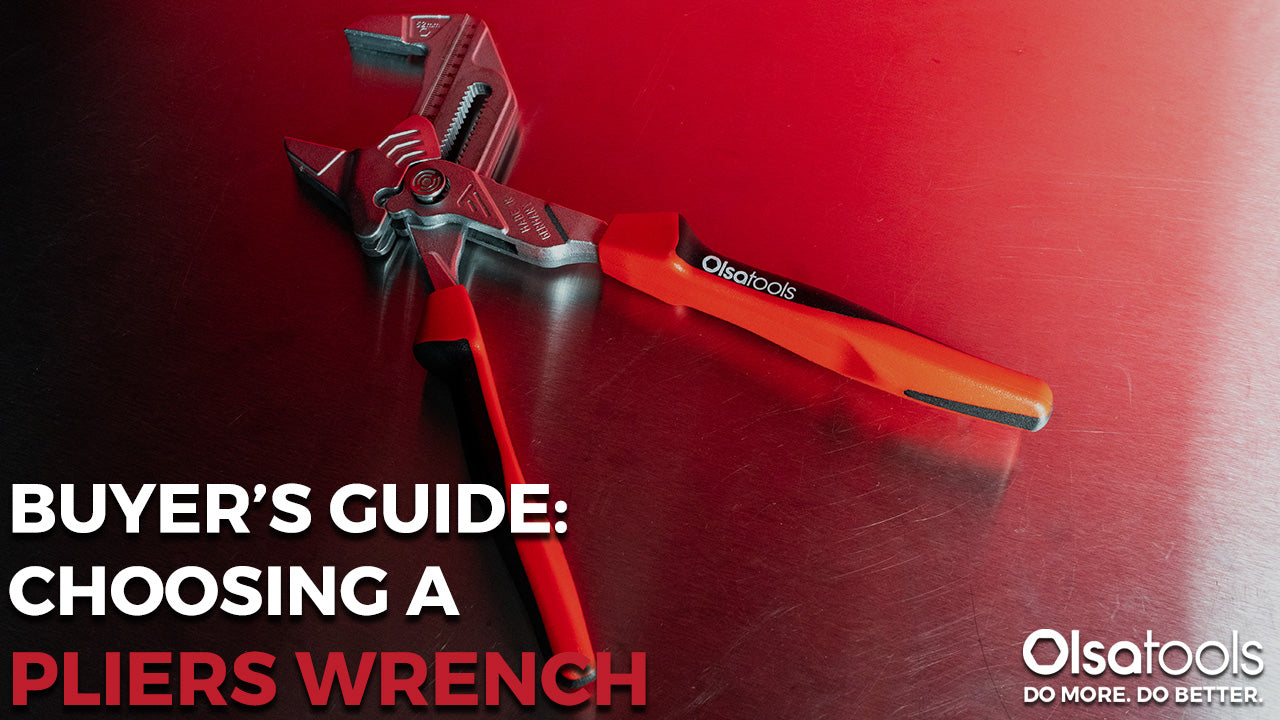 Pliers wrenches are must-have multifunctional tools for any mechanic. As the name suggests, they combine the parallel jaws of adjustable wrenches (a.k.a. crescent wrenches or adjustable spanners) with the leverage and secure hold of multi-grip pliers. 
The design of the jaws makes them extremely adaptable and convenient, so much that there are many situations where they excel against other tools while providing a firm grip on fasteners of almost any size.  
This article will describe how a pliers wrench works and what makes the best one for professional-grade environments.
Exceptional Leverage
Leverage makes it possible to grab things really tightly, and the lever mechanism of this pliers wrench is perfectly engineered to give the top-notch leverage you need. The tool features a fantastic compound leverage jaw mechanism with a leverage ratio greater than 10:1 which translates to a strong gripping power not present in conventional wrenches. This makes for a valuable tool for your most demanding jobs, capable of exerting up to 1000 lb of grip strength on a fastener. 
Super Protective Jaws
If you're looking for a tool that avoids causing damage or scratches to fasteners, without compromising strength and performance, you definitely want a pliers wrench. The flat, non-serrated jaws avoid causing damage to the fastener, delivering damage-free results so that you can work securely with any fastener material, whether it is bronze, copper, plastic, chrome, or any other delicate surfaces.
Extremely Versatile
Pliers wrenches are a great choice to help you cover a lot of ground. They feature large jaw capacities making it possible for a single pliers wrench to replace a full set of metric or SAE wrenches when you're on the go.
The extremely wide jaw capacity (up to 2" or 52 mm) proves useful for virtually any fastener you'll come across in the workshop. You can easily grip, hold, press, or bend; it will be an invaluable addition to any tool kit! 
Easy and Comfortable To Use
No matter the challenge, the tool wins a permanent spot in most toolboxes. You know that it can get tiresome and frustrating to work on heavy-duty activities that cause your hand to become tense or painful while performing repetitive movements. With this pliers wrench, you won't need to worry about that! The ergonomic, dual-material handles are perfectly built for constant everyday use, letting you work comfortably without causing hand strain. 
Repositioning the width of the jaws is a breeze, the pliers-style motion makes it easy to adjust the wrench size without needing to fully remove the tool from the head of the fastener, making it quick and easy to reposition to the next bolt flank while tightening or loosening.
Highest Quality Materials 
Another crucial factor when it comes to getting hand tools is looking for great quality materials, especially while working on a professional level. 
The Olsa Tools pliers wrench is designed and built in Germany with professional use in mind. Using durable, heat treated Chrome Vanadium steel for quality assurance, the tool withstands the most challenging of projects for years.
If you enjoy finely-tuned tools that make completing task easier, this German-made pliers wrench is fitting for most of your projects. The more you work with the tool, the more impressed you'll be.
Like all hand tools from Olsa Tools, it comes with a limited lifetime warranty and a 100% satisfaction guarantee. On top of that, to stand behind our claims of professional-grade quality, you will enjoy a 90-day risk-free return policy. Yes! You have 90 days to test the pliers wrench to see if the tool meets your expectations. Shop our pliers wrench below: