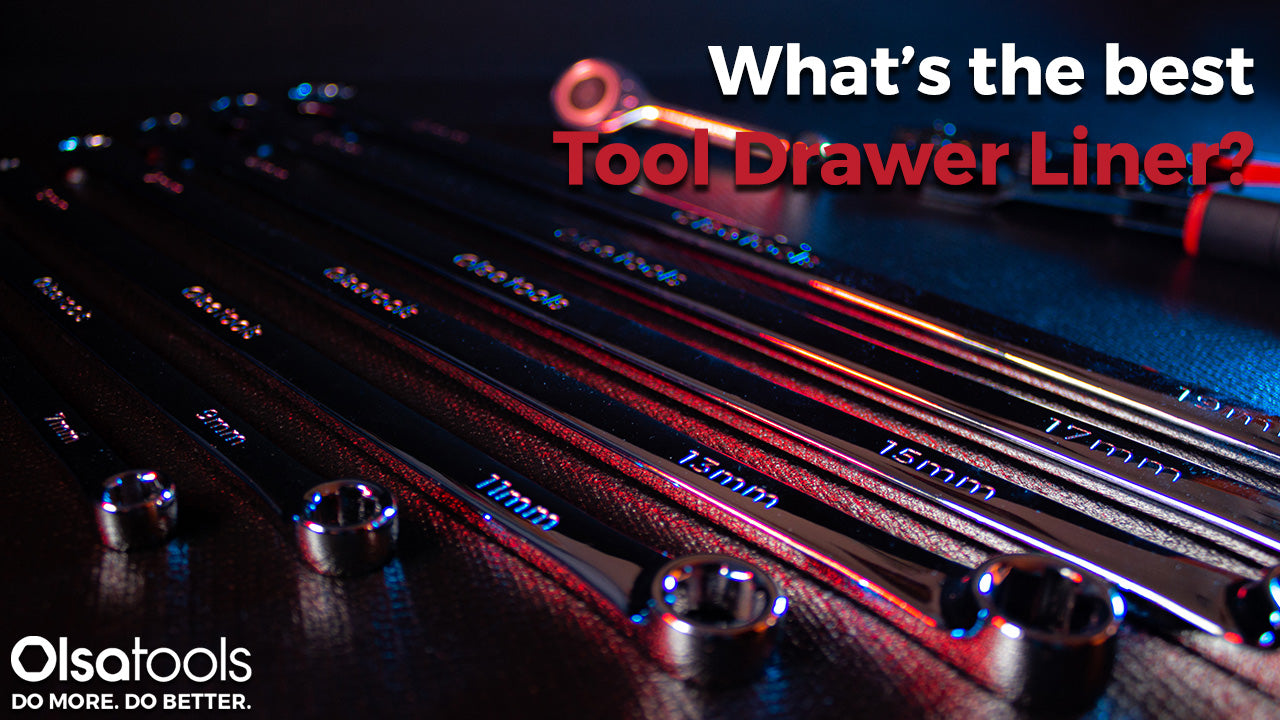 What's the best tool drawer liner?
Getting a durable toolbox liner for our tool drawers could be the last thing on our minds as we go through our everyday work. But if you own a tool chest, then you've had moments searching for a particular tool inside it, and as you search, you scrape the bottom of the metal drawers. Or maybe some of your tools are showing signs of wear due to them shifting constantly as a result of the opening and closing of the toolbox drawer.
These are the reasons you should consider getting a liner for your tool chest drawer. In addition, when you have a tool liner on the bottom of your metallic tool drawers, it will minimize the grease and other residues from settling on the bottom of your drawers. 
When looking for the best toolbox liner, you want to look for the following features:
Perfect size to adjust inside your toolbox

Non-slip surface

Easy to wash and clean material
Toolbox drawer liner solutions
Here are some toolbox liner ideas you can use:
Drawer carpeting
This is a very cheap option for lining your toolbox drawers. You can simply go to your local carpet store and buy a roll of carpet that you believe would be enough to fit your drawers. You want to cut the carpet to fit each of the drawers on the tool chest and then line it across the base. This should be enough to protect your tools from any scratches and wear.
Foam-filled tool drawer
This foam-filled tool drawer liner comes as a foam sheet used to create an outline of a specific tool shape. This cut out is then used to fit inside your toolbox drawers. The foam fill method may take longer to execute; however, you may end up with a much more organized tool drawer than the above-mentioned method.
Neoprene tool liner
The neoprene toolbox liner is made of neoprene materials similar to wetsuits. In fact, neoprene is one of the best liner materials for your toolbox. The reason for this is that it is far more durable compared to other liners out in the marketplace. Also, the neoprene liner is dense and has a naturally non-slip surface, which will prevent your tools from sliding inside your drawers.
Tool organizers
If liners a just not for you, one of the simplest ways of organizing your tools in your drawers is tool organizers. At Olsa Tools you can find a variety of tool holders that will help make things tidy while protecting each of your working tools from any damage, from sockets to screwdriver organizers and more, these collections will help you set up your entire lineup of tools and gears.
Best toolbox drawer liner option
If you do not want to improvise and you prefer a more reliable, durable and affordable option, then the best choice is to buy your own ready-to-use toolbox drawer liner. Olsa Tools Toolbox Liners are made out of tough, textured PVC foam material that withstands heavy tools, kitchenware, homeware and more.
You know that movements of tools inside drawers could result in damage, but with the non-slip feature, you don't need to worry about it as it prevents them from sliding around when drawers are opened. 
Our Toolbox Drawer Liners can be easily adjustable, which allows you to adjust,  reposition or relocate your liner anywhere you need. And if you want to make size adjustments to fit the liner inside your drawer, all you need to do is simply cut it to size with a pair of scissors or a razor blade knife. 
With perforated and non-perforated versions, the Olsa Tools multiuse Tool Box Liners will stand up to a variety of applications and preferences. Whether you require a toolbox drawer liner for your workshop or home drawers. 
Final Words 
A toolbox liner is a hassle-free way of keeping things in their place and making everything look nice and tidy with little effort. At Olsa Tools you can find 2 options that will ensure to protect your most-used tools with a stylish black liner made out of reliable materials. They are backed by a limited lifetime warranty and a 100% satisfaction guarantee and are currently in sale. 
Shop the best toolbox drawer liners