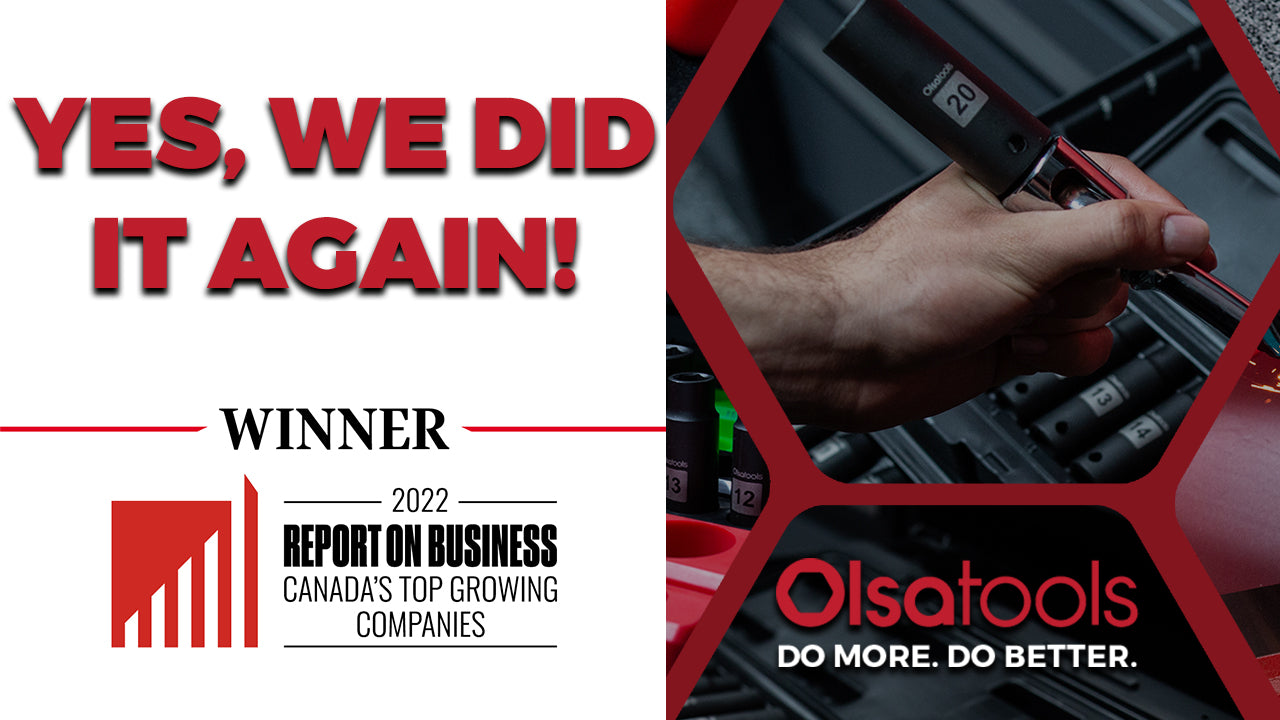 Canada's Top Growing Companies ranks Canadian companies on three-year revenue growth. Olsa Tools earned its spot with three-year growth of 417%. 
Charles Marois, founder and CEO of Olsa Tools is the person you want running a Tools Company. Just like you, he's a car lover and entrepreneur. After a frustrating afternoon trying to find the right tools for a project, he came up with the idea of creating our first product; that's how our magnetic hex bit organizer was born. Our remarkable line of tool organizers was added later and eventually hand tools. 
We attribute our exponential growth to the support of our loyal customers. Putting their interests first has been a key to continue the stream of growth by offering high quality tools to make their lives easier without breaking the bank.
We are so proud of being the 110th Fastest Growing Company in 2022 for the 3rd consecutive year. This represents the leadership, support and dedication that the Olsa Tools Team has been putting together during these last 7 years. 
Canada's Top Growing Companies is an editorial ranking that was launched in 2019. It aims to celebrate the boldest entrepreneurial achievement by identifying and bringing the accomplishments of innovative businesses in Canada to the forefront. In order to qualify for this voluntary programs; companies had to complete an in-depth application process and fulfill requirements. In total, 430 companies earned a spot on this year's ranking. 
The full list of 2022 winners along with editorial coverage is published in the October issue of Report on Business magazine. The list is out now and online here.
"Canada's Top Growing Companies recognizes the tremendous ambition and innovation of entrepreneurs in Canada," says Dawn Calleja, Editor of Report on Business magazine. "The next generation of Canadian businesses can draw inspiration from this ranking."
"In an uncertain world, the success stories of the companies marked in this year's Report on Business magazine's list of Top Growing Companies are a beacon of optimism," says Phillip Crawley, Publisher and CEO of The Globe and Mail. "The Globe and Mail congratulates them on their achievements."
About The Globe and Mail 
The Globe and Mail is Canada's foremost news media company, leading the national discussion and causing policy change through brave and independent journalism since 1844. With our award-winning coverage of business, politics and national affairs, The Globe and Mail newspaper reaches 5.9 million readers every week in our print or digital formats, and Report on Business magazine reaches 2.3 million readers in print and digital every issue. Our investment in innovative data science means that as the world continues to change, so does The Globe. The Globe and Mail is owned by Woodbridge, the investment arm of the Thomson family.