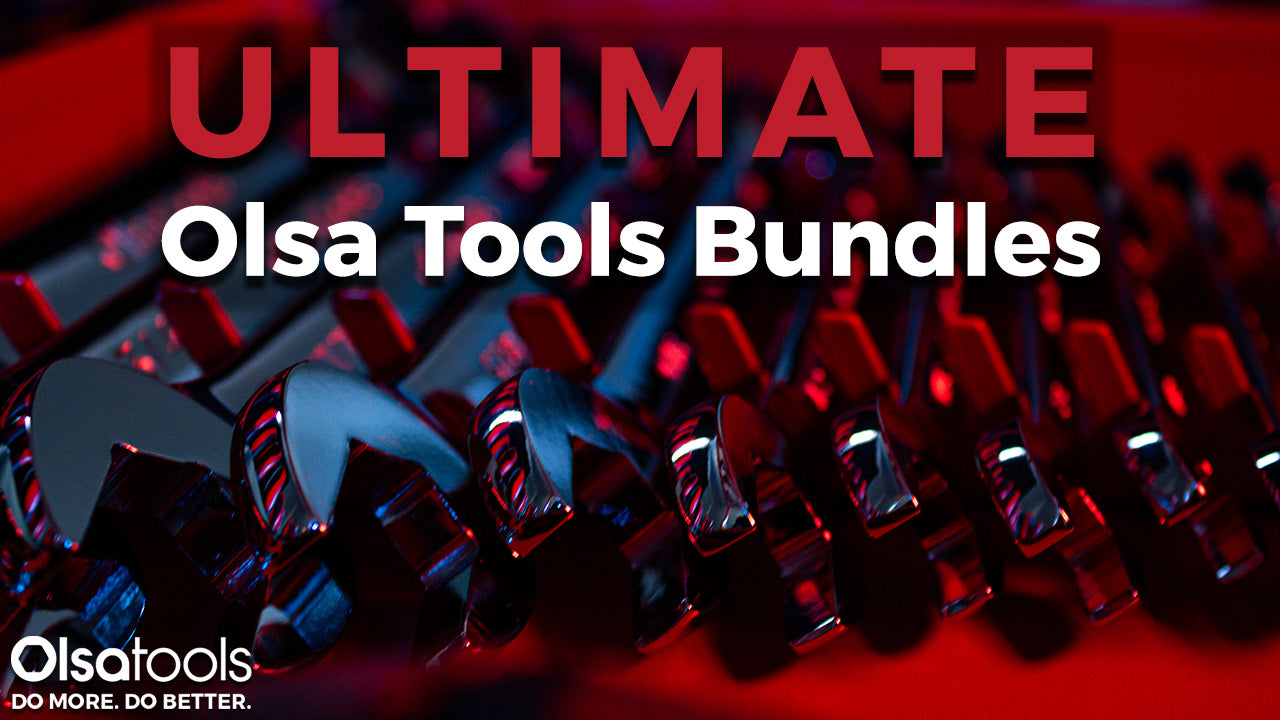 When it comes to tackling projects with accuracy and efficiency, having the right tools and organization systems are crucial. At Olsa Tools, you can find special product bundles that combine high-quality tools with innovative storage solutions so we'll explore our best product kits where we bundle up several of our customers' favorite items. The Olsa Tools kits are designed to make things easier so that you can accomplish tasks in the shortest amount of time.
Sockets & Magnetic Socket Organizer Set
The Socket's Essential Set is a game-changer for any workshop or garage. With 3 bundles available, you can choose the most suitable size for your projects.
1. Three-Row Magnetic Holder + Chrome & Impact Sockets
The 3 Row Magnetic Holder Bundle, combined with Chrome and Impact Sockets, is an excellent choice for professionals and DIY enthusiasts alike. This bundle includes a magnetic holder with three rows, providing a strong and secure grip for your sockets. The Chrome and Impact Sockets offer exceptional durability and performance, enabling you to handle a wide range of tasks with confidence. With this Olsa Tools kit, you can efficiently organize your sockets, maximize workspace efficiency, and easily tackle your projects!
2. Chrome Sockets + 2-Row Magnetic Socket Organizer Set
This set includes shallow and deep sockets with our best-seller, the 2-row Magnetic Socket Organizer. With Metric and SAE sockets available, you can pick anything from a 1-piece bundle or the complete Olsa Tools master set.
3. Impact Socket + Magnetic Socket Organizer Set
Your impact tool's best friends are here to make those heavy-duty jobs more efficient with our 1/2-inch drive Impact Sockets and the Magnetic Socket Holder. This is your new go-to set of Impact Sockets with no skipped sizes, the Magnetic Socket Organizer will keep them perfectly organized, within reach and ready for the next task.
3pc Universal Joint Kits
The 3pc Universal Joint Set and Socket Adapter Set are invaluable additions to your toolkit, allowing for increased access and flexibility to sockets. Our Universal Joints feature 45° directional tilt & 360° of rotational movement, enabling you to reach tight spaces effortlessly. This precision-engineered design ensures a secure fit and smooth operation, enhancing your efficiency and making challenging tasks more manageable.
The set includes Universal Joints and Wobble Socket Extensions in 1/2", 3/8", and 1/4" drive sizes to give you the all-around kit for multiple jobs.
Ratcheting Wrench Set with Magnetic Wrench Organizer
The Ratcheting Wrench Set with Magnetic Wrench Organizer bundle is a must-have for any ratcheting tasks. This set includes high-quality 120-tooth Ratcheting Wrenches with no skipped sizes, offering versatility for every job. The Magnetic Wrench Organizer provides a practical and secure storage solution, allowing you to keep your new wrenches organized. With this bundle, you can save time and effort by keeping your wrenches easily accessible..
Conclusion
Olsa Tools' product bundles provide an unparalleled combination of everyday tools and innovative storage solutions that promise to streamline your work process, boost productivity, and ensure you have the right tools at your disposal for any challenging assignments. Our bundle list will surely help you find the most fitting bundle for convenience, efficiency, and affordability as you tackle your next project. Bundle up with Olsa Tools and get the most convenient tool kits for your workshop.
Get to know our products