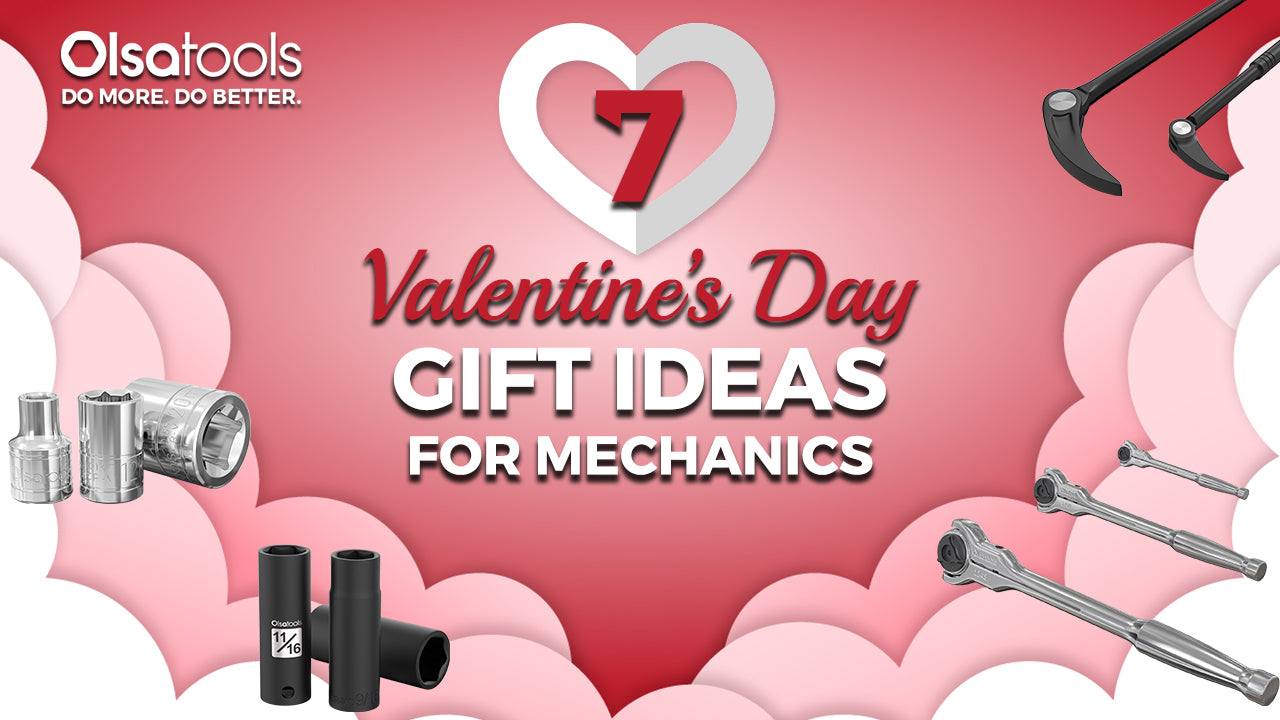 Valentine's Day is the perfect time to show the mechanic, technician, or car lover in your life how much you care for them. However, If you don't know anything about tools and garage gear, this task can be a challenge. We want to save you the frustration of trying to find the perfect gift. Here's a list of 7 useful Valentine's day gifts for mechanics that will not only make their job easier but also bring a smile to their faces.
A mechanic-related list can't be complete without a good set of sockets to tackle fastening like a professional. These chrome sockets are made from Chromium Vanadium (Cr-V) steel that is machined to tight tolerances, heat-treated, polished, and coated with a Chrome plating to avoid corrosion. Also, this impact socket set is made from industrial-grade Chromium Molybdenum (Cr-Mo) which is the most suitable material for impact-resistant tools. These two types of steel are an indication of high-quality and durability, meaning that any set of sockets you choose will last a lifetime of heavy-duty applications.
It's hard to imagine a car technician without a ratchet in their toolbox. What makes this ratchet one of the handiest gift ideas for mechanics is the swivel head; it features a 90 tooth round head with a 270° degree of range that makes getting sockets out of tight spaces easier, delivering irritation-free results while working in awkward angles. The mechanic in your life is sure to love this Valentine's Day gift!
This is a must-have tool in any garage or professional workshop; with an adjustable length from 13.3"-18.5", not only does it save time, but you can be certain that it is adaptable for many heavy-duty projects where positioning heavy equipment or aligning steel plates is required. Like our chrome sockets, this set of pry bars is made from Chrome Vanadium (Cr-V) steel to ensure professional-grade quality. These bars will be your special someone's new go-to tools.
A good pair of gloves can be one of the best gift ideas for mechanics since they involve safety, cleanliness, and good grip. These knuckles savers are made from synthetic leather and are resistant to oil & water. They are perfectly designed to help fit and protect the right place of your hand, avoiding any accidents. The pair is available in sizes S, M, L, XL, XXL. 
Most workshops and garages have lost tools or always have them cluttered around the workspace, for that matter, tool organizers are the perfect gift idea for mechanics. Whether you choose socket organizers, screwdriver holders, or wrench racks, all of them are space-savers, helping keep things neatly organized and perfectly clean. The mechanic in your life will be so happy to get a set of these for Valentine's Day. Pick between plastic trays, aluminum holders, or magnetic organizers for a more versatile tool organizing solution that is ideal to be stored anywhere! 
Help your beloved reduce the pain of working on the knees with this kneeling work mat. The strong cushion material provides pressure relief and support, the built-in handle makes it easy to carry around no matter where the project is, and the 1.06" thickness won't compress over time or absorb water in significant amounts, making it an idea for lightweight and heavy-duty projects on the go.
A good set of screwdrivers is always a great gift idea for mechanics as they are some of the most-used tools for both household and professional tasks. This precision screwdriver set has 3 flatheads and 3 Phillips heads screwdrivers for a more useful solution and allows the user to deliver maximum torque. Perfect to be used during different projects where professional-grade results are required.
These are the most helpful and useful gift ideas for mechanics, they are perfect for Valentine's day or any other occasion as they make the job much easier, safer, and keep things cleaner. Also, if you're worried about the reliability of Olsa's tools garage gear, all of them include a limited lifetime warranty, 100% satisfaction guarantee, and a 90-day risk-free return policy to give your beloved mechanic peace of mind and yourself a better shopping experience. You might think it's hard to find the perfect gift, but this list will make gifting easy, just search in the right place. Looking for the best gifts for mechanics? Check out our shop here. 
Pick The Best Valentine's Day Gift Ideas For Mechanics