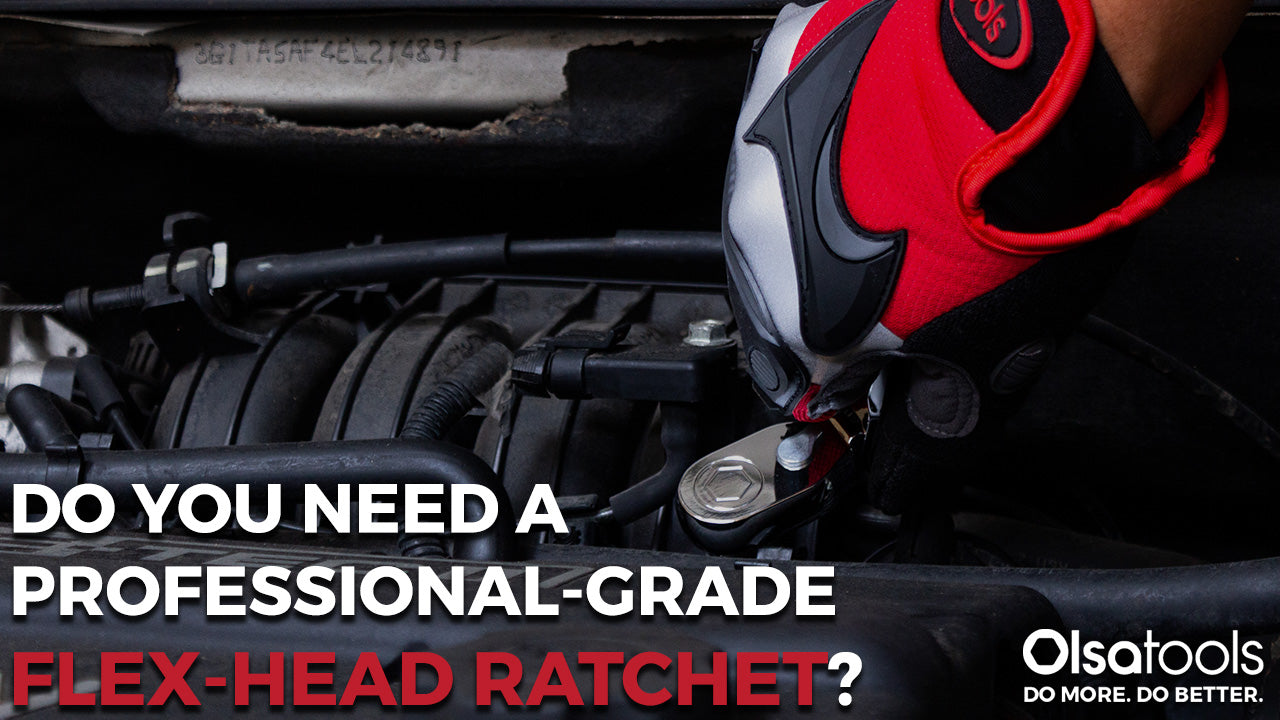 Ratchets are a staple in professional workshops or garages, so choosing the best piece with the attributes that makes the job less stressful is essential. They have different styles and characteristics to work under a wide variety of tasks and satisfy the needs of multiple users. 
The flex head type is the best to work in hard-to-reach spaces as it is designed to avoid the headache of working with annoying bolts and nuts located at awkward spots. The arc swing in this tool matters and determines how smoothly and quickly you are able to complete your projects. This is your guide to know what makes a tool truck quality flex head ratchet.
Easily Access to Hard-to-Reach Spaces
It is pretty easy to find 72-tooth fine ratcheting gears on the market, as they are the most common and come in handy for diverse applications. With this tooth count, you need to move the handle a total of 5 degrees to turn your bolts and nuts, but when it comes to working on tighter and more meticulous jobs, you have better options.
You buy flex head ratchets to work in spaces where your regular fixed-head ratchet can't fit. When clearance is so limited, you barely have enough space to fit a ratchet, let alone move your hands smoothly. 
That's why finer or higher-tooth-count ratchets like these Olsa Tools 90-tooth ratchets prove to be more beneficial for this type of application, as you only require a 4-degree swing arc for each click, keeping the aggravation out of working in cramped spots. 
The slimness of the head is also a huge determinant when getting into somewhere tight, and the heads of the 3/8-inch drive Olsa Tools ratchets are precisely machined to only 0.5 inches (12.7 mm) thickness, without sacrificing the strength of the gear. The smooth flexing head offers 180 degrees of range for ease of movement and time-saving results. We promise this new tool will exceed your expectations!
Delivers Outstanding Leverage
If changing tires, working with axle nuts, and other high-torque projects is what you frequently use your ratchets for, models with longer handles are a must-have. The Olsa Tools 1/2-inch drive flex head ratchet is two feet long to give you the perfect torque and control to break stubborn nuts and bolts free. The sealed heads without a push-button allows for a higher torque spec and prolong the life of the ratchet by preventing dirt and dust from getting into the internals. 
Industrial-Grade Quality 
You know how important it is to ensure that what you add to your collection of tools is made of the highest quality and with a level of craftsmanship to guarantee tool truck performance. A USA-made product will promise to give you excellent lifetime usage.
Our flex head ratchets have been fully engineered, fabricated, and assembled in the USA, using domestically-sourced materials, and have passed stringent quality tests to ensure they will last a lifetime. The industrial-grade Chromium Molybdenum (Cr-Mo) steel is heat treated to provide superior strength, then  chrome plated and polished to perfection. 
With these ratchets, you have the peace of mind that your money has been well-spent, and your new ratchets will last generations of heavy-duty projects. They exceed ASME B107.110-2012 torque specs by over 80%, which ranks them with the highest strength ratchets in the industry. 
Lifetime Warranty
A limited lifetime warranty assures the ratchets you purchase will have guaranteed quality. When getting any hand tools from Olsa Tools, you get a lifetime warranty to deliver maximum value to your investment. On top of that, our risk-free return policy offers you 90 days to test it, and if for some reason the tool doesn't meet your expectations, you can return it free of charge, and we will give you your money back, promised! 
You should always opt for tools that are durable and withstand the busiest of workshops. When investing in your new USA-made flex head ratchets, you'll get work companions that will never let you down. Choose between a full set (1/4, 3/8, 1/2-inch drive long ratchets, and a 3/8-inch stubby ratchet), or get them individually depending on your needs.
Shop Our Ratchets & Sockets