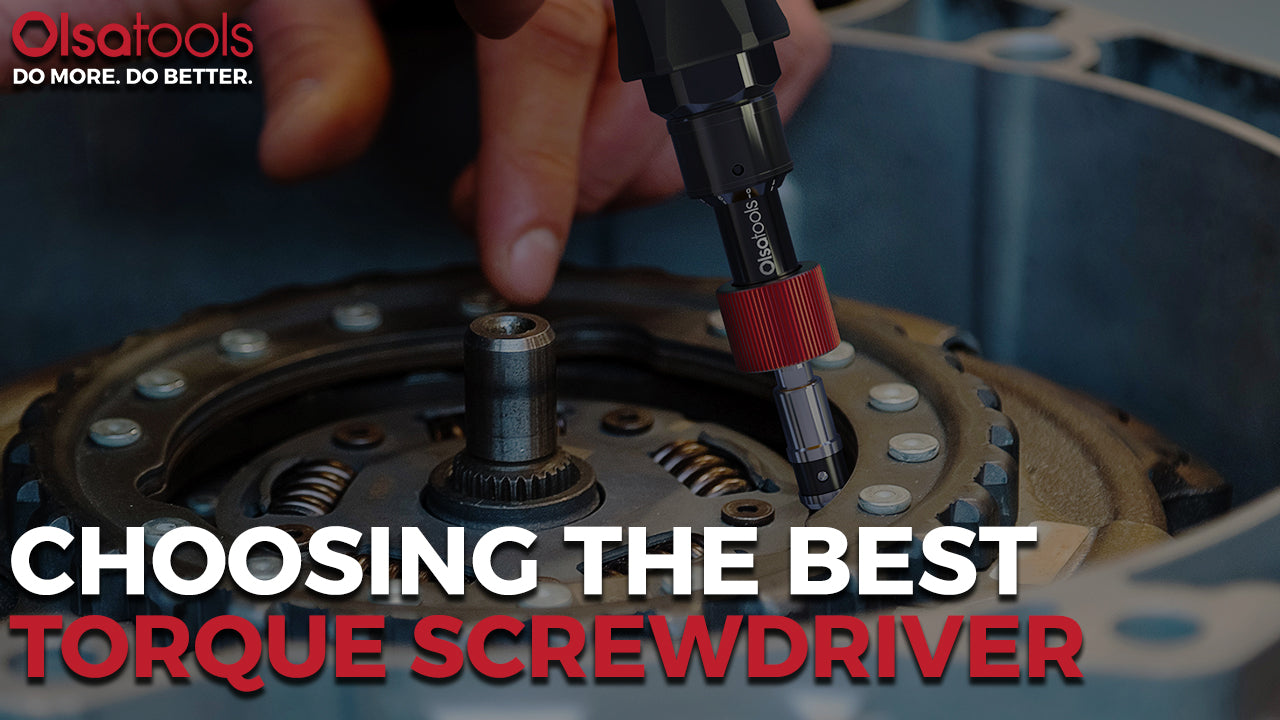 Although regular and torque screwdrivers serve the same purpose; tightening and loosening screws, working with a torque screwdriver can make a considerable difference in your job. We'll tell you all that you need to know about torque screwdrivers so that you can pick the best torque screwdriver for the job.
Differences Between Regular And Torque Screwdrivers 
Controlling how much torque you apply on a screw is crucial no matter how big or small your project is, as this will prevent damaging fragile components or voiding warranties. This is precisely what a torque screwdriver is engineered for, contrary to a regular screwdriver; this tool is able to identify and limit the amount of torque that is applied to a fastener. Overtightening fasteners can lead to damaging it, or worse, causing damage to the section that the fastener joins together. In short, the best torque screwdriver will help you tighten a screw or bolt to the desired torque spec, taking the guessing out of it and saving your time without causing damage.
Types Of Torque Screwdrivers
Hand torque screwdrivers: these are the most basic yet effective for heavy torque application under most circumstances. They often work with a cam-over function that creates a "slip" when you reach the desired amount of torque, reducing the chances of applying too much torque and damaging the fastener. The Olsa Tools hand torque screwdriver has a range of 10 - 50 in-lb and includes a 1/4-inch female hex drive so that you are able to work in a wide variety of jobs while using the right force, this also delivers greater torque than an electric screwdriver. The tool is accurate up to ±6% and certified through DIN ISO 6789 & ASME B107.300-2010, so you can be sure that it is engineered with professional use and durability in mind. 
Electric Torque Screwdriver: they are the best option when you have to work in delicate repairs and assemblies. However, they can't deliver as much torque as a hand or pneumatic screwdriver. These types of tools feature speed and accuracy and are commonly found in the electronics industry, car manufacturing or anywhere fasteners are required to assemble an item. Some electric screwdrivers work with a push-to-start function, and others with an auto shut-off clutch, this will vary depending on the model and the brand.
Pneumatic torque screwdriver: these are the ideal tools for manufacturing environments because they are one of the most powerful. They work with an internal clutch that shuts off air when a specific torque spec has been applied. They feature more velocity than the hand torque screwdriver and both can be equally strong depending on the model. This tool is perfect for more sturdy projects where you need to use larger screws. 
Hand, Electric or Pneumatic: What's The Best Torque Screwdriver?
For you to be able to determine what's the best torque screwdriver for the job, you'll always need to think about what your needs are; If you loosen and tighten fasteners on an everyday basis or work in the construction, electronics, or mechanics industry, these are all factors that you should consider before choosing the best screwdriver for the job. Your best option will be one that satisfies your needs. 
If you need extreme torque and great accuracy, the
Olsa Tools hand screwdriver
will cover most of the jobs since it can deliver more torque than an electric one. This is thanks to the included t-handle that can be attached to the end of the torque screwdriver to give you extra leverage anytime you need to apply high torque. Also, as with all of our hand tools, it comes with a 
100% Satisfaction Guarantee & Limited Lifetime Warranty
 and a 
30-day risk-free return policy
 to give you the peace of mind that your new torque screwdriver will last you for a lifetime of heavy-duty jobs.
Shop The Best Torque Screwdriver & Our Torque Related Tools