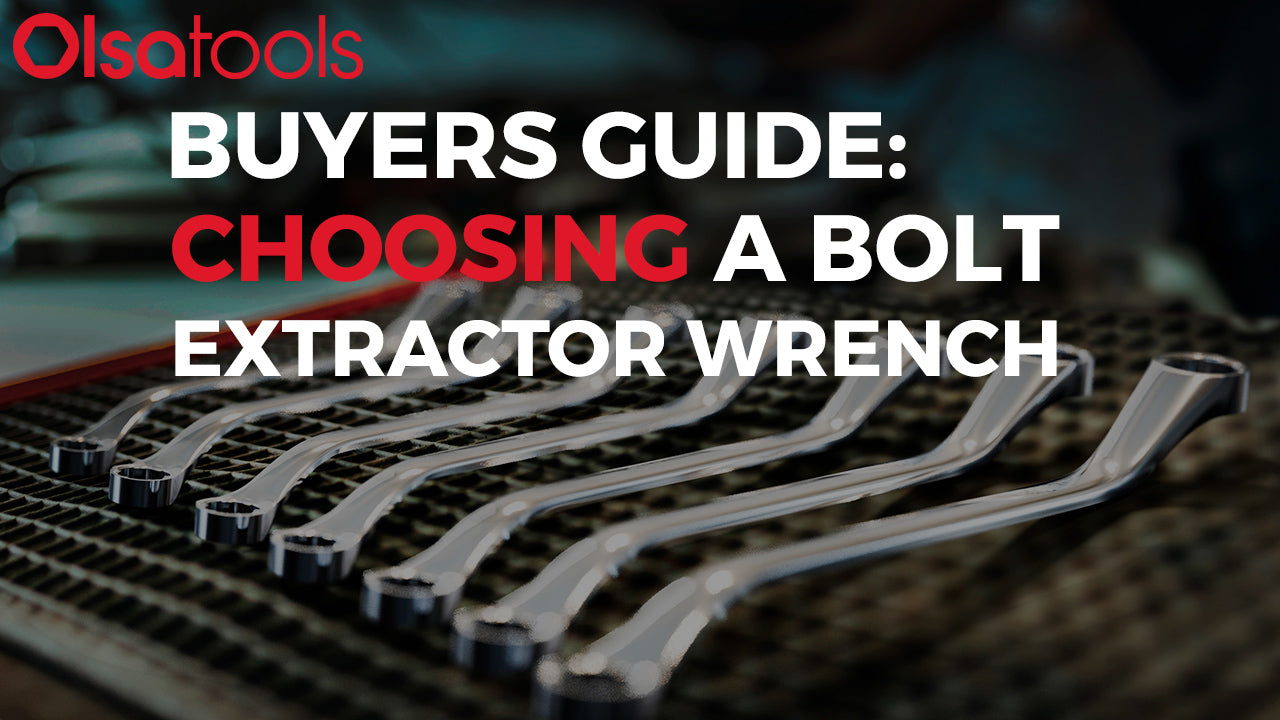 Have you ever been working hard on a project and suddenly you run up against a rounded or damaged bolt? Rounded fasteners can cause frustration, waste time and lead to other damaged tools if you are trying to get them off with something not meant for removing damaged fasteners.
An offset bolt extractor wrench is one of the best wrench sets any handyman could own, as it is one of the most versatile tools thanks to its multifunctionality. We have prepared a list of 3 features you need to consider before investing your hard-earned cash in this type of wrench.  
What Is An Offset Bolt Extractor Wrench? 
These offset wrenches work as regular close-end wrenches but with an innovative extractor feature. Having the extractor attribute helps you to remove damaged bolts.
At Olsa Tools we offer a professional quality Cr-V steel wrench set. This bolt extractor wrench set includes a wide range of metric sizes (6x7, 8x9, 10x11, 12x13, 14x15, 16x17, and 18x19 mm) with no sizes skipped. Their 45 degree offset angle allows you to get into tight spaces that a normal wrench or extractor socket and ratchet wouldn't be able to get to. 
These wrenches also have a 6-point box-end design that keeps the load off the corners of fasteners,  so it is less likely to cause further damage to your fasteners under high torque. An offset bolt extractor wrench set become a go-to tool thanks  to its added bonus: you can even use it instead of your normal close-end wrenches!
Features To Look For In A Bolt Extractor Wrench 
1) Offset Handle Design
If your fasteners are damaged, the extractor ends easily remove up to 80% rounded bolts. Its 45 degree offset angle is able to help out with rounded-off fasteners, saving you time and ensuring you work faster thanks to this precise engineering touch. 
2) Professional Quality Steel
When working with a bolt extractor, you always need to get your job done with the best quality tool. You can be confident that our bolt extractor wrench set has tool truck quality, the set features industrial-grade Chrome Vanadium (Cr-V) steel and exceeds DIN standards for box-end wrenches by 130%.
3) Warranty
You cannot go out to any job without reliable and quality tools at all times; better yet, having tool truck quality tools without tool truck price. At Olsa Tools all of our products are professionally tested and come with a limited lifetime warranty to back you in case you need a replacement while owning any of our products. Simply visit our warranty page and submit your replacement inquiry. If you are looking for a set of bolt extractor wrenches that exceeds industry standards and your expectations, look no further than Olsa Tools.
We hope this guide has helped you to choose the best bolt extractor wrench set. Remember to pick a professional quality set that helps you get your job done with precision. You can check our offset bolt extractor wrench set and our selection of wrenches below:
Shop Our Professional Wrenches