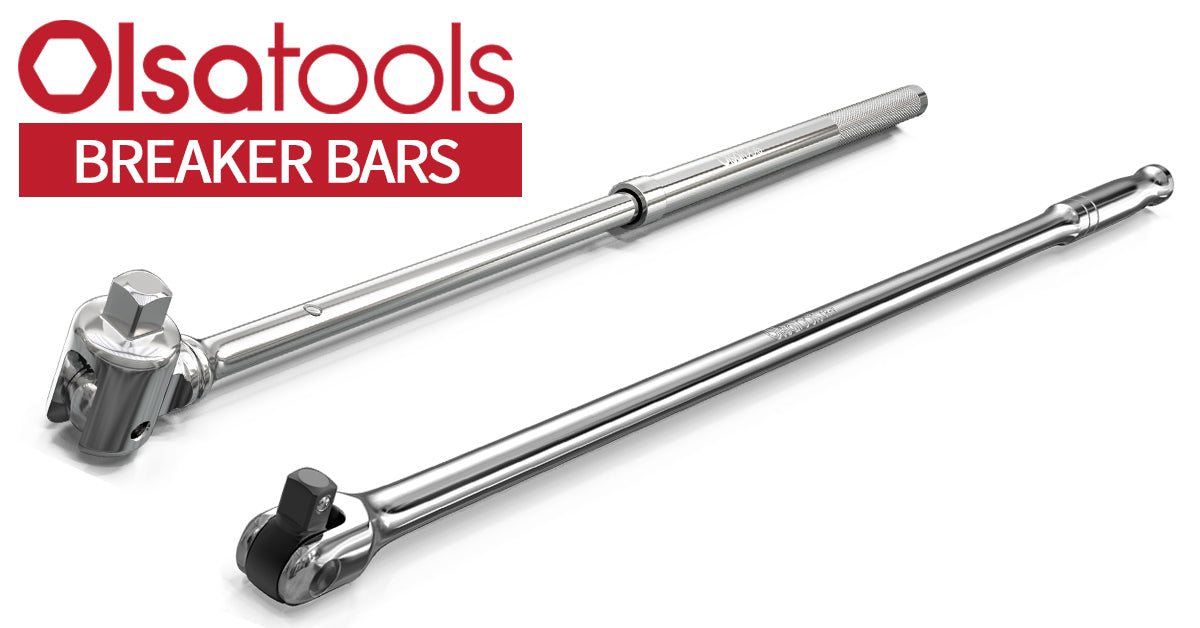 Finding The Best Breaker Bars
If you have a stubborn nut or bolt that just won't budge, then it may be time to break out the big guns. An extendable breaker bar is an essential tool in any mechanic's arsenal and can sometimes make the difference between getting your car back on the road or waiting for professional assistance. This article will explore what an extendable breaker bar is, why it's so helpful, and why you should be adding it to your toolbox.
Breakers Bars: Features You Need
1) Durability
The extendable breaker bar durability is dependent on the material it's made of. The metal used in the shaft can range from mild steel to high-grade alloy and some. The options for high-quality steel are:
∙ Alloy steel
∙ Forged steel
∙ Chrome Steel
Another thing to pay attention to is the coating. A chrome coating will protect your new breaker bar from rust and give it that shiny look for years to come.
2) Knurled Grip
The grip is important for two reasons. One, it should be smooth and not too hard to hold onto tightly. Secondly, the best grips are knurled or textured so that your hands don't slide off while you're working on a stubborn bolt.
3) Leverage:
To get the job done, you will need the right amount of leverage. The tighter the bolt, the more leverage will need to be applied to create higher torque to "break" the bolt free. The longer the bar is, the higher the leverage and subsequently, the higher the torque. Although length is necessary, there is generally no need to buy the longest break bar you can get your hands on; usually, 16 to 24 inches should be enough for general use. This 1/2-inch extendable breaker bar  bar gives you the best of both worlds by allowing you to get the perfect length no matter the job.
4) Head Rotation
Rotating the breaker bar's head is essential for loosening stubborn bolts. The head is the part of the tool that attaches to the nut or bolt that you are removing. Look for a breaker bar that has at least 180 degrees of rotation. This will give you accessibility to tight and tricky spaces.
5) Size
If the question "What size breaker bar do I need" comes to your mind, look for a drive size that is comfortable to use for you and store in your toolbox. Standard breaker bars are good but have one major downfall, their size. Getting an extendable breaker bar ensures that you will be able to store it in your toolbox and also enjoy having a long breaker bar when you need it; you'll get multiple sizes in the same tool. The extendable feature allows you to use the maximum length when fully extended for greater convenience. 
Another important thing is the overall length of the handle. Most are designed to be one standard length but they can vary between two and six feet long, depending on your preference and use cases.
6) Warranty
A warranty is a safety net that will ensure you never have to worry about your breaker bar breaking or even being used. Look for something with at least a lifetime guarantee so that the company actually backs their product 100%. At Olsa Tools we have a standard 100% Satisfaction Guarantee and a Limited Lifetime Warranty. If you ever experience any problems with a purchase from us simply reach out by sending us an email to support@olsatools.com.
Summary
The advantages of this 1/2 inch breaker bar cannot be understated. It will fit in your toolbox, it is lightweight and easy to maneuver, and you can use the full length when fully extended. Although there are hundreds of breaker bars to choose from, the Olsa Tools Extendable Breaker Bar offers all of these features! Plus, you can get 10% off your purchase with the discount code: BREAKERB10.
Shop Our 1/2 inch Breaker Bar