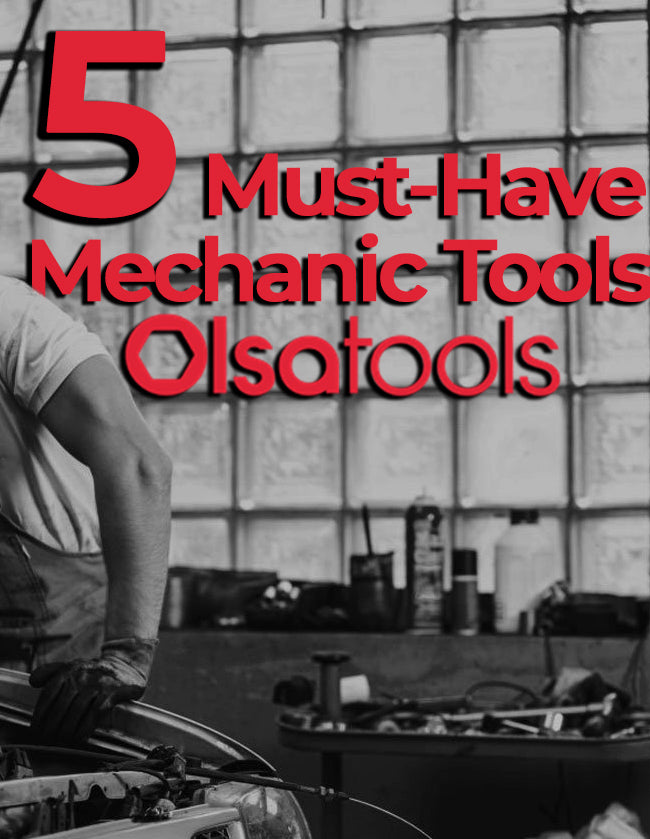 These are the 5 Tools Every Mechanic Needs
Tools are the key to success no matter what job you do. When talking about mechanics though, you need the best mechanics tools that you can get your hands on and some are so necessary that no mechanic should work without them. We have put together a list of the '5 Must-have Mechanic Tools' that will save you time, frustration and even pain in some cases. Not only is having these tools necessary but they can also be key to your success. You want tools that are going to stick with you for a lifetime and get the job done without worrying about if they will stand up to the task. Here is the list of tools a mechanic needs to put them on the path to success:
A Professional Screwdriver Set is a tool that should be built to last you a lifetime and is guaranteed to do so. Sure it is easy to go to your nearest hardware store and pick up a set, but do your research on what you are getting before being blinded by an attractive price and nice packaging. The Olsa Tools Professional Screwdriver Set is a magnetic screwdriver set that includes Torx heads, Phillips heads, and flatheads and precision screwdrivers (in the 20pc set) to make your job easier. Their grip makes it soft and very comfortable forming to your hand to allow you to work quicker than ever while minimizing hand fatigue when you are working. The set is made out of Chrome Vanadium which is unbreakable and backed by the Olsa Tools 100% Satisfaction Guarantee & Limited Lifetime Warranty should you ever experience any manufacturer related issues with any of the screwdrivers. 
A standard mechanic tool is a high-quality Ratchet Wrench Set. This set can make your life easier. A ratchet set is meant to save you time and let you get in hard to reach places that a regular open-end wrench wouldn't allow you to get to. (Picture reaching into an engine cavity with an open-end wrench and having to crank and remove the wrench 20 times, now, imagine setting the ratchet end on the bolt and making the same adjustments without having to remove the wrench from the bolt.) The Olsa Tools 100T Ratchet Set has our brand new patented box end that can loosen & tighten bolts that are up to 80% rounded. Plus, they only need a 3.6-degree swing arc that lets you work in tight spaces. Made out of unbreakable Chrome Vanadium Steel (Cr-V) our 12pc Metric & SAE sets are backed by Olsa Tools standard 100% Satisfaction Guarantee & Limited Lifetime Warranty, making this set one of the best mechanic tools that you should get for success in your field.
The difference between nitrile gloves and the best pair of mechanics gloves are their protection and fit. Your hands are what makes it possible to get the job done, shouldn't you do your best to protect them? Made out of synthetic Leather our multipurpose work gloves give you all-round protection that is made for every handyman and mechanic alike. These gloves give you the grip that you need and fit that is like a second skin. Their thick & protective TPR knuckles and PVC coating protect you from impact, scratches and other painful scenarios. Olsa Tools standard 100% Satisfaction Guarantee & Limited Lifetime Warranty is the ultimate when it comes to peace of mind.
Staying Organized is crucial to your success in the garage as a mechanic. Being able to quickly find the right socket, wrench or plier will save you valuable time and prevent frustration, plus you'll have a sick looking toolbox that is #toolporn. No more wasting five minutes in your toolbox looking for that damn 10mm socket; Instead, you open your socket drawer and find the 10mm clearly in the right position. At Olsa Tools we have socket organizer trays, magnetic socket holders, plier organizers and more! All of our tool organizers are backed by our Standard 100% Satisfaction Guarantee & Limited Lifetime Warranty.
Being able to correctly torque a bolt to an accurate spec can be crucial. Having a Torque that is ASME™ Certified accurate and calibrated gives you peace of mind.  Our torque wrenches are more accurate than large tool truck brands and cost a fraction due to our no middleman business model. Our Click Torque Wrench gives you up to 150 ft-lb of torque range in both directions with a ±3% accuracy. The Split Beam Torque Wrench is 50-250 ft-lb of torque range with a ±4% accuracy and our Digital Torque Wrench is 12.5-250ft-lb of torque range with a ±1% accuracy clockwise and ±2% counterclockwise.
Summary
The tools that you use as a mechanic have an impact on the quality of work that you are able to deliver and how efficient you are with your time. This list of the Top 5 Must-have Mechanic Tools features some of the best mechanic tools that you can get, plus they are all backed by a standard 100% Satisfaction Guarantee & Limited Lifetime Warranty, ensuring that they will accompany you over the years! Get your must-have tools today with free shipping over $50.