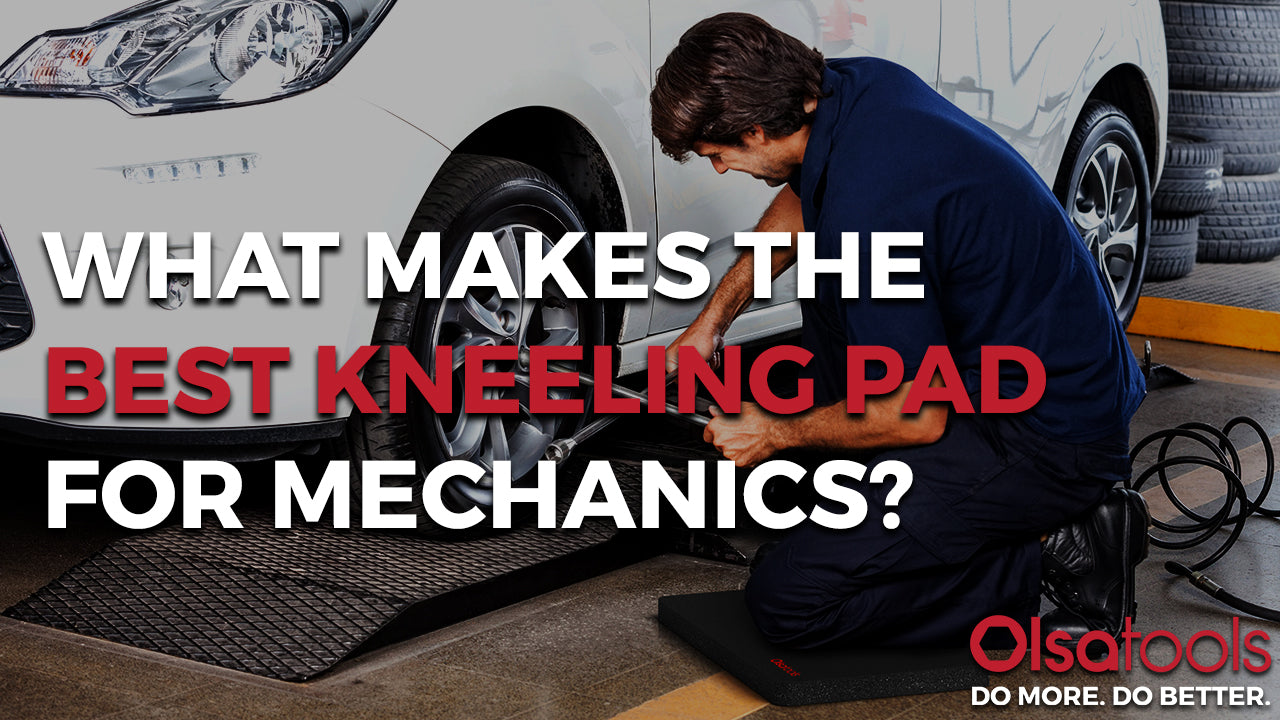 Working with unprotected joints can lead to severe pain and can also lead to more serious conditions that can be avoided by using the proper protection. Your most valuable investment and tool is your body and it should be treated as such! Your joints are worth the investment of buying any accessories that ensure you are safe and productive no matter the job, so we are going to tell you everything you need to consider when buying a work kneeling pad.
Mechanic Kneeling Pad Must-Have Feature
No matter how big or small your project is, you often find yourself needing kneeling pads or mats; but do you know what makes them stand out from each other? Choose one that gives you the relief you need to support and distribute your weight during each task with these features: 
Durable Materials 
You are much more likely to use your pad for many hours in unnatural positions, so pay attention to the material the pad is made of. Our Kneeling work mat is designed with NBR904 foam to give you the next level of full performance and reliability. This cushiony long-lasting material will give you pressure relief and support, at the same time that helps you stabilize your posture to improve your safety during many years of use. 
Thickness 
Owning a kneeling pad that is thick enough to guarantee comfort for a variety of uses will make this accessory a lifesaver. The Olsa Tools kneeling mat is 1.8" thick and provides a great barrier between yourself and the ground below. The water resistant material will resist absorbing liquid and easily wipe off any liquid spills or dirt. This paf is great at withstanding harsh impacts and recovers quickly from kneeling, yet is soft enough to give the support and relief you need whether you are cleaning your car's wheels or changing the tires. 
Easy Portability 
Working with a pad that is easy to carry around anywhere your next job is the best choice. Our pad includes a built-in handle for easy transportation. That's right; you will be able to get the job done comfortably thanks to this lightweight and convenient feature, you can even store it inside of your vehicle. 
Summary 
When working on hard surfaces, a mechanic kneeling pad is better than bare floor to bone contact. Our kneeling pad delivers the knee protection and will help you work more comfortably and efficiently, keeping your productivity up and the ability to work longer. You can make sure you won't come close to bottoming out thanks to its thickness of the material.
With the OIsa Tools kneeling pad, you can make sure you won't be in excruciating pain and discomfort when working on bent knees. Plus, like all of our accessories, it comes with a limited lifetime warranty, 100% satisfaction guarantee and is backed by a 30-day risk-free return period to support our claim of professional reliability.
Shop Our Professional Kneeling Mat & Related Products