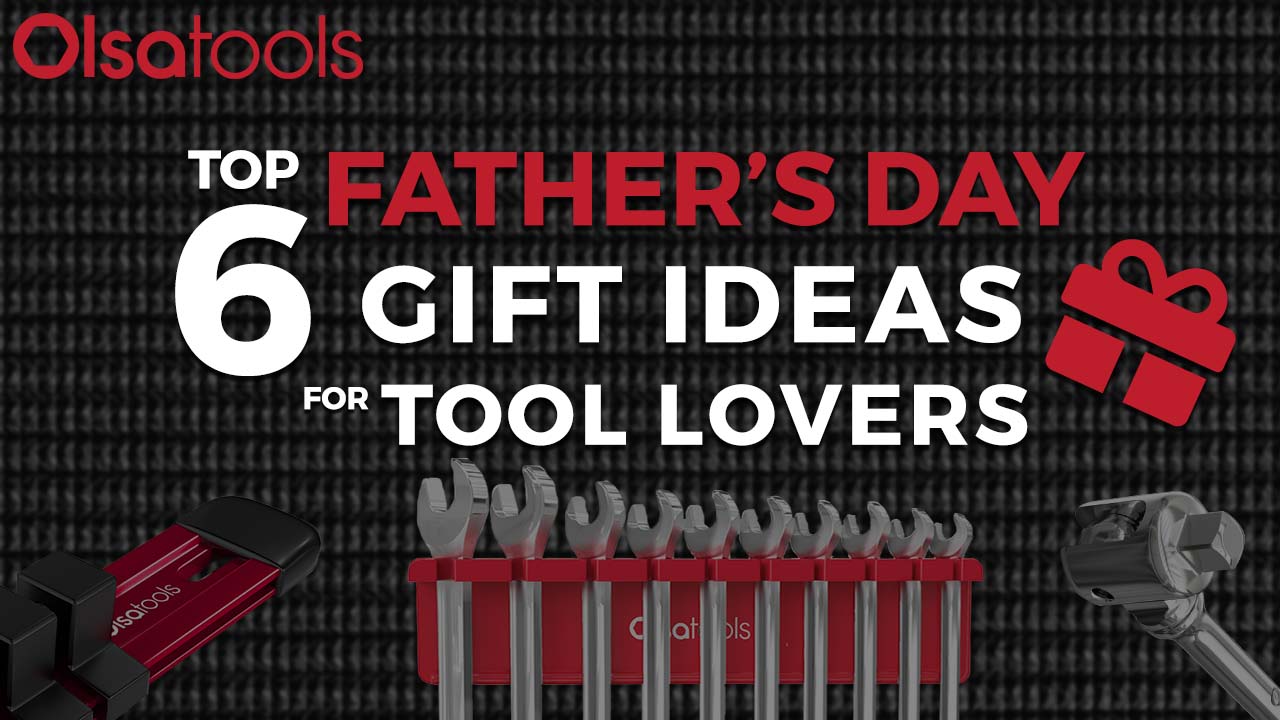 Are you looking for the best Father's Day gift for your dad, grandpa or friend? Whether he is a mechanic or works on projects on the weekend, or is a handyman; these special men always needs a huge array of tools and accessories to get his job done efficiently.  With Father's Day just around the corner, Olsa Tools prepared a list of 5 great gift ideas perfect for the hard-workingmen in your life, that will make their job easier! (Plus, get up to 35% off selected products).
No longer will mechanics waste time looking for the right socket. Our magnetic socket holder has multiple spots that can hold their metric or SAE sockets in the same place, keeping their work area organized by saving space and time. No more frustrated time spent looking through messy sockets! The socket holder features a strong ferrite magnet base that keeps the tray secured to almost any steel surface (even when mounted upside down)and comes in 8 different colours. This easy-to-use tool organizer is not only stylish but also highly functional and will be the perfect addition to any workstation!
Get dad an affordable aluminum socket rail to help him enjoy organization and customization thanks to this innovative rail system. The rails can be cut, clips can be placed on both sides, and they fit all sockets; deep, shallow, impact or chrome. This organizer is made of professional-grade anodized aluminum rails and feature durable ABS clips with steel ball bearings that keep sockets on the rail no matter what! They are strong yet light enough, so they are easy to carry around while still being able to hold up under tough conditions. Buy the 3pc kit now for a limited-time Father's Day offer with no coupon code required and free shipping. 
If you want to pick a tool that will make him think of you each time he uses it, pick the Olsa Tools extendable breaker bar. This extendable breaker bar is perfect for getting the job done with ease with its telescoping design that extends from 16 inches up to 24 inches; to ensure he can get just enough extra torque when needed. For all of those tough jobs, this tool is perfectly made to break & loosen nuts and bolts that are rusted or stuck in place. Plus, the knurled grip ensures a firm non-slip grip so dad can effortlessly complete any job.
This magnetic screwdriver organizer is the perfect item to keep his workstation tidied up! The organizer is equipped with a thin foam backing that protects surfaces from being damaged. It also has ultra-strong rare earth (neodymium) magnets that ensure that you can place it on any steel surface without worrying about scratches. This is the easier way to securely keep screwdrivers in place and even other small tools like wrenches; the tension clips are specially designed to perfectly grip a variety of tools. You can choose between 7 striking colours to match dad's style. 
If your tool lover dad (or husband) needs a way to make room for more wrenches and still be able to find them easily, then this magnetic wrench holder is perfect. This tool organizer features a sturdy and durable TPR material that makes sure wrenches will never slip out while holding SAE 3/8" thru 15/16" sizes, and Metric 10mm thru 19mm sizes. With its magnetic base feature, this rack can be securely attached against any metallic surface so all the necessary wrenches are always within arm's reach.
If you really want to make sure the tool lover dad in your life loves your present but you are unsure about what to get him, choose the Olsa Tools gift card. Our cards come in multiple values (from $10 up to $100) and have no expiration date so he can pick something he really wants or needs anytime. Make sure there's nothing left on dad's wish list!
Summary
If you are looking for the perfect Father's Day gift, we have a wide variety of tools and accessories to fit your budget. Our entire catalog is backed by 30-day risk-free returns (in case dad doesn't like something) a standard 100% Satisfaction Guarantee & Limited Lifetime Warranty to help make sure your loved one has access to their favorite tools for years to come!. Get up to 35% off selected products here.
Shop The Best Tool For Dad