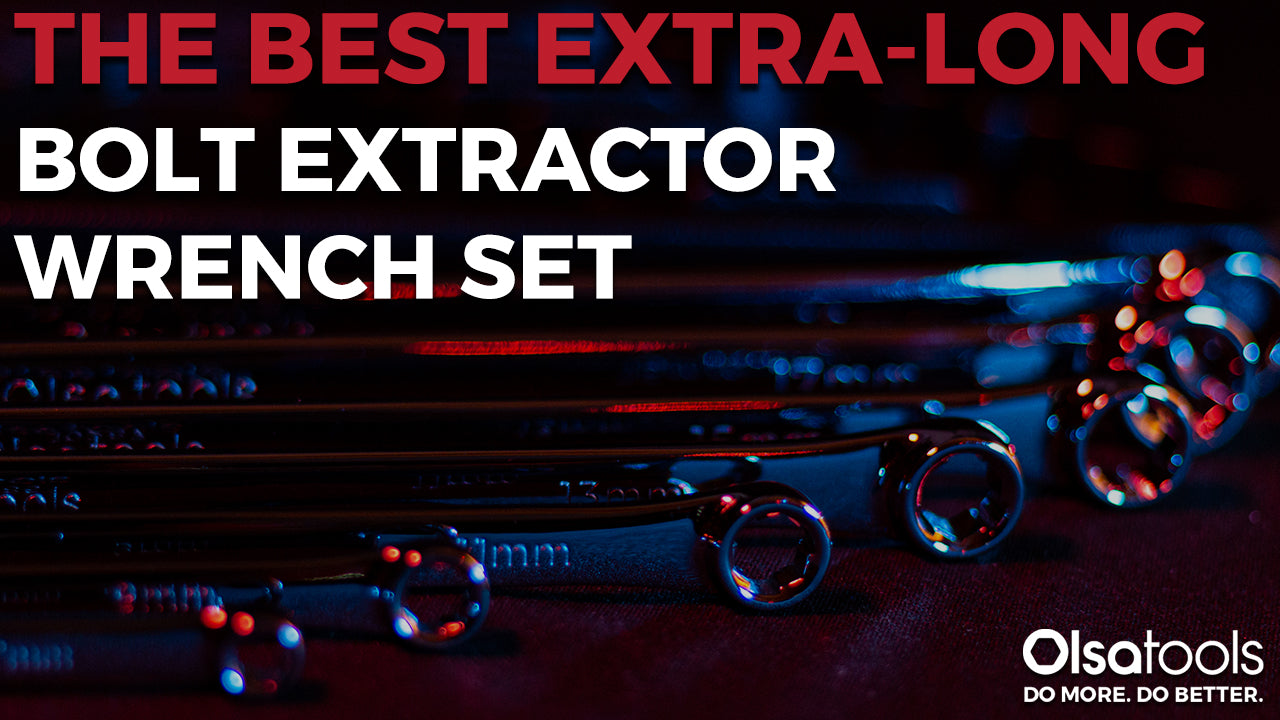 Have you faced the frustrating task of removing a rounded nut located in a tight space? If so, you surely know about the several tricks and tools you can use when this happens. Some of them will help you get rid of a rounded-off bolt head more quickly and efficiently than others. 
But what if you just want the most accurate tool to help solve this problem? This is when an extractor wrench shines brightest. It makes it easy to get the job done right on the first attempt, without slipping, hurting your knuckles, or wasting time like you would with the wrong tool. Get the insights on what features make a handy bolt extractor wrench if what you need is high performance, superb leverage, and durability.
Leverage Is Your Friend
Removing a stubborn bolt is not an easy task, as this can almost break your spirit in the process of breaking it free. That's why we've come up with an all-new bolt extractor wrench with extra long handles, they are up to 55% longer than their cousins offset extractor wrenches so that you get greater leverage and torque. The leverage benefit allows you to easily push up on the wrench and pull down accurately to disengage the stripped fastener. 
2-1 Multifunctional Design
This is a new innovation in wrenches; they feature an innovative 6-point box-end design with an extractor feature that is exclusive to Olsa Tools. This means that for the price of one set, you'll get two convenient tools. The patented biting teeth not only act like extractors by being able to remove up to 80% rounded-off fasteners, but can also be used as regular closed-end wrenches. 
Plus, they are engineered to minimize the risk of rounding nuts and bolts under high torque by keeping the load off the corners of the fasteners. These will be your new go-to wrenches for a wide range of jobs! 
Unlike socket extractors or turbo sockets that are not good for nuts and bolts located in restricted spaces, these wrenches are slim enough to provide all the clearance you need while working in cramped areas. 
Good Quality & Affordability
When a tool lacks industrial-grade materials delivers non-reliable results, this is not the case with our long extractor metric wrenches, they are made from Chrome Vanadium (Cr-V) steel to assure long-lasting performance. The mirror-polished chrome plating helps with rust prevention and corrosion resistance, they last for years and give you the ultimate bang for your buck while fitting your needs. They are backed by a limited lifetime warranty, a 100% satisfaction guarantee, and a 90-days risk-free return policy for greater value.
Bolt Extractor Wrench Set For Stripped Fasteners
Some people apply multiple techniques to remove rounded-off bolts and nuts, such as generating heat shocks with a torch, applying penetrating oils, and even using vise-grip locking pliers. However, such methods might make things more tiresome, waste your time or even fail to deliver the expected outcome. When you just want to ensure professional-grade results without sacrificing your time and energy, this is the best bolt extractor wrench set for the job. Want to get yours? Use the code EX10OFF and get 10% off your new wrenches now.
Shop The Best Bolt Extractor Wrenches