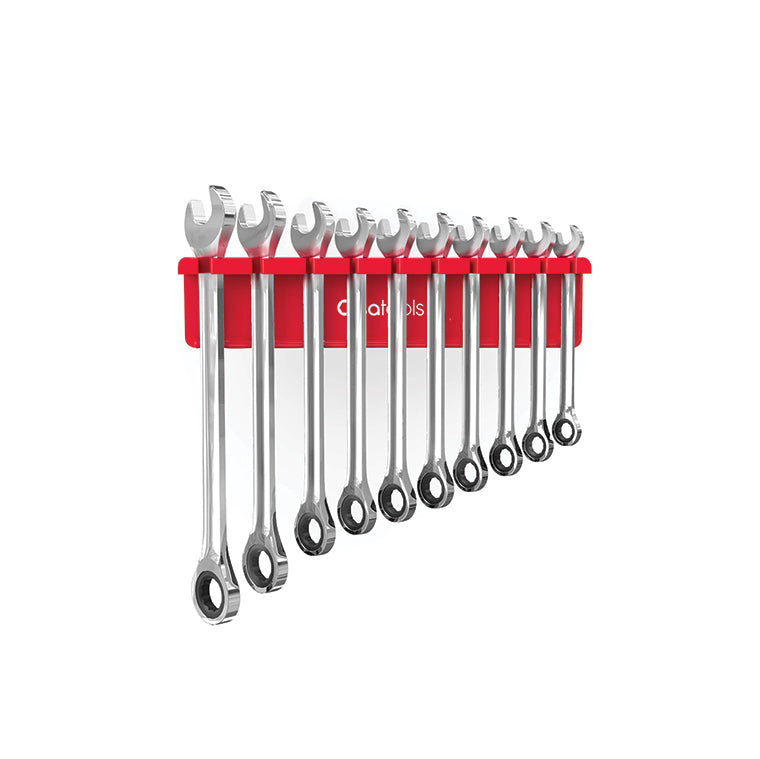 If you've used wrench organizers before, you know the frustration of getting something that doesn't meet your expectations. We did the work for you and listed 3 of our best wrench organizers, so you can perfectly accommodate multiple sizes of wrenches. You have different options to choose from! 
1. Magnetic Wrench Holder
Ensure your wrenches are neatly in place with our convenient magnetic wrench organizer. The organizer has a magnetic base that makes it possible to mount 10 of your wrenches onto any steel surface while keeping them diagonally in order of size. This helps you to save time by having the tool that you need at an arm's reach. Plus, the base features a ridge to prevent scratching on the metallic surface. Tidying up your workspace has never been so easy with this long-lasting wrench holder! 
2. Portable Wrench Organizer
If you're looking for the best wrench organizer and particularly one with a portable feature to carry around your tools, the Olsa Tools portable wrench organizer will be the perfect addition to your toolbox. This organizer is ideal for both, Metric and SAE wrenches and is able to hold up to 15 of them so you can transport your whole wrench set anywhere that your jobs take you! The ABS plastic is extremely strong and durable, allowing you to purchase this holder with peace of mind! The organizer fits wrenches from all brands and up to 1".
3. Magnetic Metal Wrench Organizer
Having a wrench holder that helps you to organize your wrenches and saves space in  your toolbox is the perfect combination. Well, this magnetic wrench organizer does exactly that! The rare-earth magnets keep the rack attached to almost any steel surface, so you don't need to worry about not having enough space in your toolbox. You can mount up to 12 wrenches on the side of your toolbox, on a hoist, tool cart or any other steel surface. It also fits almost all brands of wrenches up to 1"1/16 or 24mm in size. Plus, the protective foam prevents scratching on the surface where you place the rack.
These wrench holders can all hold metric & SAE wrench, while keeping them in place, and the magnetic features help to capitalize on your space, helping you to transform how you work. In addition to these benefits, all of our wrench organizers come with a 100% satisfaction limited lifetime warranty and a 30-day risk-free return policy so that you can be confident that your purchase works perfectly for you!
Check Out Our Best Wrench Holders