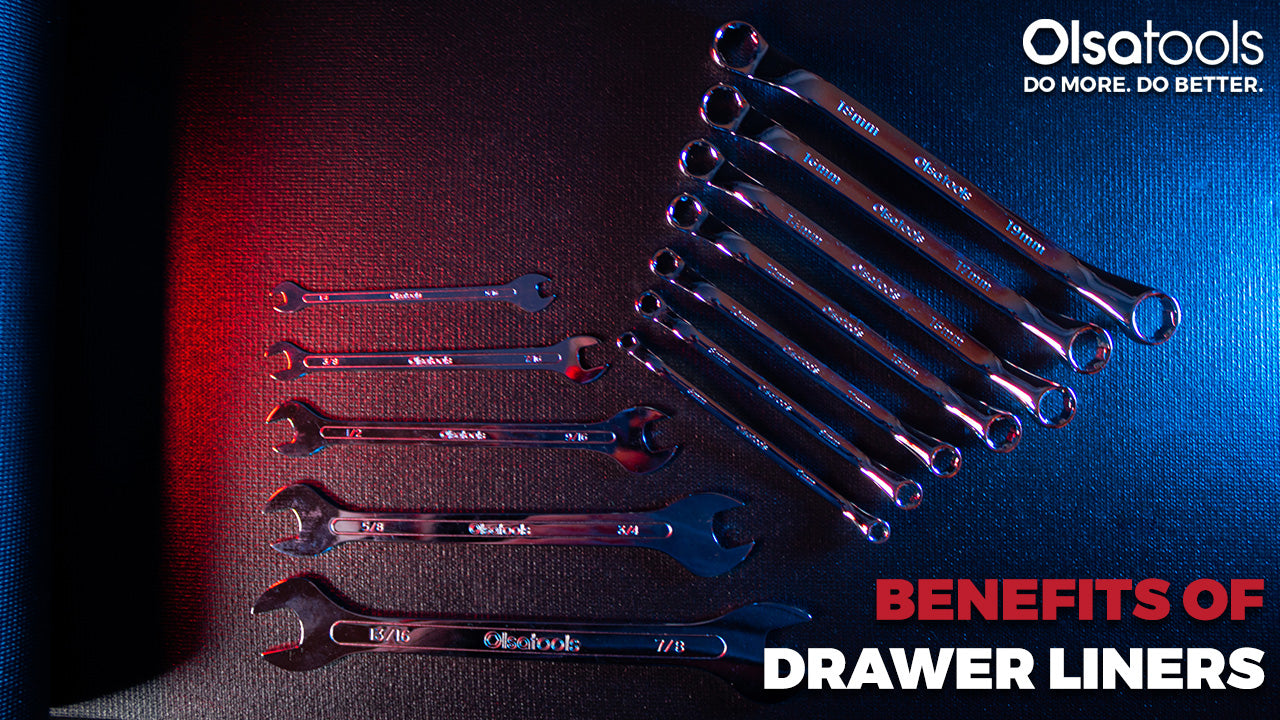 If you're looking for drawer liners to protect your houseware, kitchenware, or tools, you're in the right place. In this blog post, we will be explaining the importance of drawer liners for your home or toolbox, some clever ways to use them, and how to install and customize them properly. You'll see that they have numerous uses and how they can help you organize and protect your tools.
Drawer liners definition
Liners are protective mats that are used to line the inside of drawers. They come in various materials, including rubber, foam, and vinyl. The purpose of these liners is to save your tools from damage, keep them organized, and prevent them from sliding around while opening and closing the drawers.
What makes a multi-use drawer liner?
Superb versatility
This is likely one of the most essential aspects when it comes to choosing the proper liner. Let's say that you want to line your kitchen cabinet, are Olsa Tools drawer liners what you need? Yes! The stylish black color gives you endless possibilities for various circumstances. You can use it as:
Kitchen Liner
Refrigerator Mat
Toolbox Liner
Vanity Drawer Liner
Desk Liner
Under-the-Sink Mat
And much more!
Their outstanding versatility allows you to use them in your house, workshop, and beyond!
Protection, strong grip & durability
Why leave your tools or tableware vulnerable? The PVC foam material is cushioned adequately and is perfect to safeguard your tools, kitchenware, or housewares from scratches.
Plus, you'll love the surface! It's non-adhesive, yet grips your items enough to prevent them from sliding into each other. The tough, textured PVC foam material of the Olsa Tools Perforated Tool Chest Liner allows air to circulate properly, protecting your cups or tools from moisture. Say "bye bye" to unwanted dirt, grease, oil, and water accumulation on your tools.
If you want to ensure you get a liner that doesn't slip, choose this drawer and toolbox liner. It is designed to give you durability and reliability under real-life circumstances.
Customization & ease of cleaning
These cabinet liners are non-adhesive, so cleaning them is a breeze. Just use mild soap or a damp cloth for flawless results.
You can reposition the liners or relocate them wherever they are most suitable for you! Both the perforated and non-perforated drawer liners come with rolls of 16 in x 16 ft or 18 in x 24 ft with 3.2 mm and 2.5 mm thickness, respectively. You can perfectly adjust the size or shape that best fits your needs, just use scissors or a utility knife. You can even cut them to fit inside non-stick pans to protect them from scrapes and scratches. How convenient, right?
Summary
Drawer liners are an uncomplicated way to keep your drawers organized, clean, and protected. You can find so many types available, so choosing one that fits your specific needs is easy whether you want to prevent slipping or moisture absorption. Plus, drawer liners have the great benefit of prolonging the life of your drawers and their contents like utensils and tools, while also making them more functional and stylish. So why not give drawer liners a try and see for yourself how convenient they can be?
Shop our drawer liners & related tools