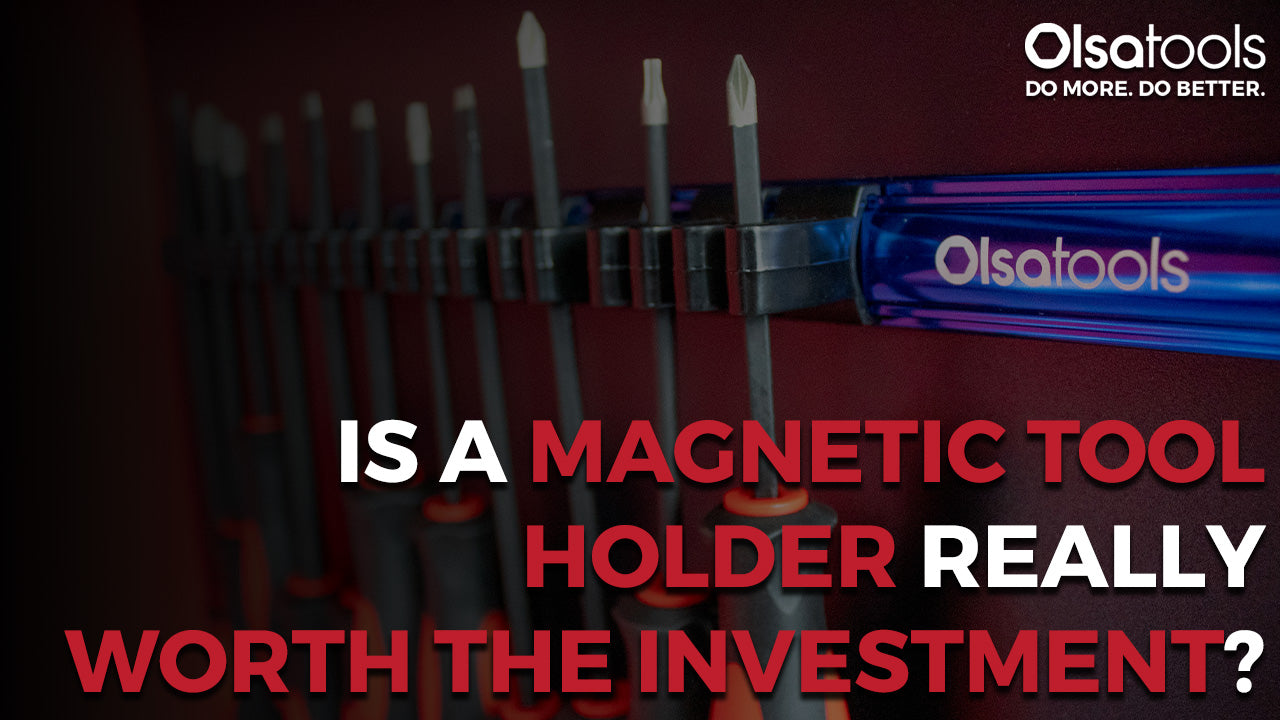 Is the chaos of your tools reigning in your workshop? If so, you should find the best way to master the organizational system of your workshop or garage. Most workspaces around North America have gained tidiness thanks to magnetic tool holders. But, is this magnetic feature really worth the investment? We'll go through the details about magnetic tool organizers so you can make an educated decision and find out if you need one of them.  
What Makes A Magnetic Tool Holder? 
Whether you work with small, medium-sized, or large tools, magnetic organizers are a convenient and affordable solution to organize your sockets, wrenches, ratchets, screwdrivers, or any other item you work with. Compared to most tool organizers, the magnetic field creates an organizer that can be effortlessly attached to most steel surfaces (this is not possible with a regular tool organizer). Also, depending on the design, you can keep the organizer inside of your drawer, delivering greater ease of use compared to regular organizers. Does this mean that they are better than regular holders made of plastic or other material? There's no definite answer to this question as it depends on what you need for the job and what your preferences are. Making repairs to a vehicle involves using the tools and accessories that help you easily accomplish any task by giving you quick access to your precious items. If there is something we could all agree on, it is that a magnetic tool holder can be pretty useful and avoids many frustrations, especially when it's designed with professional use in mind. Here are 3 tool organizers for 3 of the most used tools by mechanics.
3 Types of Magnetic Tool Organizers
It can get tiresome trying to find the right socket in your messy pile of tools, but only if you don't have this magnetic socket organizer. The bestselling Olsa Tools magnetic socket holder is a quick and easy way to keep sockets in place, it takes the frustration out of ratchet work and is the perfect-fit organization for all your sockets. The rare-earth neodymium magnets (also known as NIB and Neo magnet) along the surface are strong enough to store your sockets upside down but convenient enough to easily snap out any socket when you need it, so you can have your tools within arm's reach and complete any task quicker. Plus, it has a rubberized magnetic base that protects the surface you place it onto from any scratch. Pick between 8 striking colors in a single 1/2 , 3/8 or 1/4 inch set, a 3 pc set that holds up to 75 sockets, or a 6 piece set that holds up to 175 sockets for maximum storage capacity. Check out this organizer here.
The power of magnets is also available for screwdriver holders, ensuring that your most-used tools are always available at all times. The organization capacity of the Olsa Tools magnetic screwdriver organizer is not limited to your screwdrivers as it also holds other small tools such as ratchets and wrenches, giving extra functionality for every professional workspace. The magnetic force offers an exceptional amount of power and the high tension clips are able to hold up to 16 screwdrivers and other small tools. With an easy-to-use mechanism, you just need to slap the rack on any steel surface, or keep it inside of your drawer and clip your screwdrivers effortlessly. The rack is available in 7 colors, is exceptionally lightweight and compact so you can carry it around no matter where your next project is. 
With the super-strong metal magnets of this wrench organizer, you don't need to worry about losing grip on your wrenches. The rack features efficiently built clips that are perfectly engineered to hold 10 SAE 3/8" thru 15/16" sizes and Metric 10mm thru 19mm sizes of wrenches, you can easily place them diagonally in order of size. This Olsa Tools magnetic tool holder works exceptionally well in most areas; the ridge prevents your wrenches from making contact with the metallic surface and avoids scratches and dents. Place it on your toolbox, tool chest, cart, or metallic pegboard and enjoy the usefulness and time-saving features of the organizer. Available in red, blue, and green, it ensures to match with any workshop and garage.

Another Important Feature: Professional-Grade Quality
As the rest of our collection of tool organizers, these magnetic tool holders are built using truly professional-grade materials and exceeding high-quality standards, so no matter if you're a DIYer or a professional auto tech, when you get these you get professional-grade products that are designed to last for generations and withstand the busiest of workshops. If you're looking for a tool organizer that makes any heavy-duty assembly easier and is designed with tool truck quality without the tool truck price, these magnetic tool holders are what you need. Experience high-quality products without breaking the bank with a limited lifetime warranty, 100% satisfaction guarantee, and a 90-days risk-free return policy.
It is fair to say that a magnetic tool holder is a great investment if you are looking for something that keeps your tools looking new and ultimately while still protects your work area from any unnecessary scratches. The best magnetic tool organizer is one that keeps things tidy, gets rid of frustration, and helps you complete the projects easier and quicker by having better-organized tools.
Check Out Our Magnetic Tool Holders