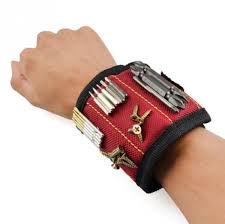 Buying the Best Magnetic Wristband
Magnetic wristbands are not tools but they are so much needed in every toolbox. Magnetic wristbands are absolutely perfect for professionals working in construction industries or DIY enthusiasts. Not all magnetic wristbands are alike: some can hold more weight than the other, some are more comfortable than the others.
Magnetic Wristband Must-Have Features
For this reason, we have put together a buying guide for magnetic wristbands, where we outline all the important characteristics of a good quality magnetic wristband that you should look for while choosing one.
Strength of the Magnet
Obviously, you do not need a wristband that cannot hold more than a couple of screws. Before purchasing, make sure that the magnets are strong enough to hold your tools. Pay attention to both the number of magnets embedded into the wristband and also the strength of those magnets.
Wristband Material
Look for a wristband that is made from high quality and robust materials on the exterior and interior. The exterior should be made of durable and tough material, in order to be resistant to wear and tear of everyday tasks. For the internal layer, look for something that is soft and breathable.
Surface Area of the Magnetic Strap
Search for a magnetic strap that can hold all your tools and equipment together so that you can concentrate on the actual task and be more efficient. Many of the options available in the market come with all-around magnets that let you hold and carry around as many tools as possible.
Magnetic Strap Weight
Consider buying a magnetic wristband that is lightweight and comfortable to carry around. However, even lightweight wristband should be able to hold the weight of essential items that you plan to carry around, such as screws and nails.
Easy to Use
High-quality magnetic wristbands come with adjustable fastenings, which allow you to easily adjust the size of the band around your wrist, to achieve the desired level of comfort.
Magnetic wristbands are not just designed to hold nails and screws, they are capable of so much more. All you need to do is to purchase one that is well suited to your needs and is the correct size. Our guide covers all the important factors you need to consider before making your decision. Furthermore, if you need magnetic tool holders, checkout Olsa Tools collection. Olsa Tools carry magnetic tool organizers for sockets, wrenches, screwdrivers, and many more.