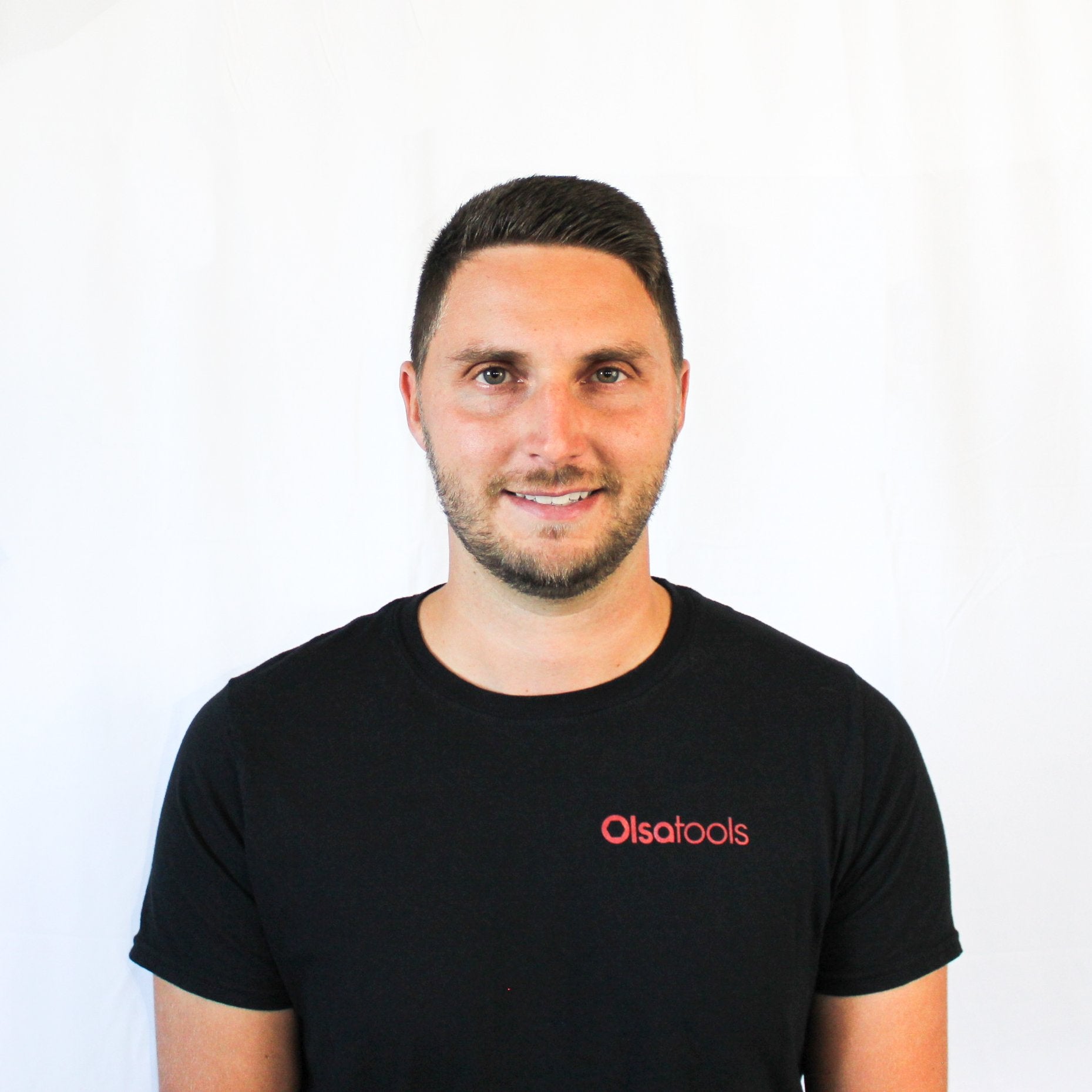 Hi, my name is Charles Marois, I'm the founder of Olsa Tools, I started the
 company back in 2015, when we were free to go anywhere without a mask! ☺ I'm originally from a small town (really small town, population of 1,800) in Quebec, Canada, I grew up as the oldest of 5 kids and I started working at a young age. At age 12, I started logging with my dad on the weekends. I loved it, I got to operate a tractor, a wood loader trailer and chainsaws. Operating machinery or anything with an engine has always been something I've really enjoyed.
At age 13, I developed an appetite for motorsports, t
hat's when I started racing quads across the province. Every weekend during summer my siblings and I were riding our race quads and that's when we were forced to learn mechanical work as well as the importance of being organized and having quality hand tools, because sometimes, we only had a few hours before our next race and we needed to repair things quickly. After a few costly bills at the dealership we decided to rebuild our own quad engines to save money and we loved working with tools.
Whether I was racing quads, racing karts, jumping my dad's trail snowmobile in our backyard (oops) or even mud bogging, I was always involved in sports that rushed adrenaline through my veins. I got scared and hurt a few times, but never broke one single bone in my body, I got lucky, knocking on wood. Nowadays, I ride my mountain bike in summer, go quadding, fishing, camping and in winter I ride my mountain snowmobile in British Columbia. I also enjoy maintaining my own vehicles and showing my children some basic mechanical knowledge.
A few years later, I bought my first pick-up truck, it was a 1999 Ram 2500 with the 5.9L turbodiesel 
engine. That thing was old and rusted but the engine was still running great, for while... At one point I had one bad injector and decided to replace all 6 injectors with +100hp injectors, tune the truck and add an aftermarket air intake and exhaust on top of that. It made the truck much more fun to drive and that's when I realized diesel engines have so much potential and I've almost always owned one since then, I just love the torque they have to offer.
In high-school, I met my wife and we have been together since we were 14 years old and a few years later, we got married, at 17 years old…I know it's crazy, but it was the right decision, we've been happily married since and have grown our family, we now have 3 wonderful children.
After high school, I went on to college and completed a 3-year program in Business Management, it made me realize how much I loved business and that one day I would have my own business. Once school was over my wife and I moved to Alberta, Canada, where opportunities were abundant, mainly due to the oil industry which was booming back then. At that point I wanted to start my own business, but I didn't have enough savings, so I worked as a truck driver and as a delimber operator in the logging industry.
I eventually moved on to car sales and that's when I met someone who would show me the ropes on how to sell online, back in 2015, this was fairly new. One afternoon at home, I was getting frustrated while searching for my tools and decided to look for products to organize my tools, but the options were limited, and prices were unreasonably high. That's when I decided I would offer high-quality tool organizers at affordable prices under the Olsa Tools brand name and my friend Richard helped me establish an online presence. 
For the last 5 years, our team at Olsa Tools has been working extremely hard to offer high-quality tool organizers, hand tools and other accessories that will last a lifetime and won't break the bank. We offer products that you can find on tool trucks at a fraction of their retail price due to our direct-to-consumer business model and we make sure they are tested by professional automotive and heavy-duty mechanics before releasing them. 
Hopefully that gives you a better idea of who I am and what I stand for and thank you for supporting Olsa Tools!