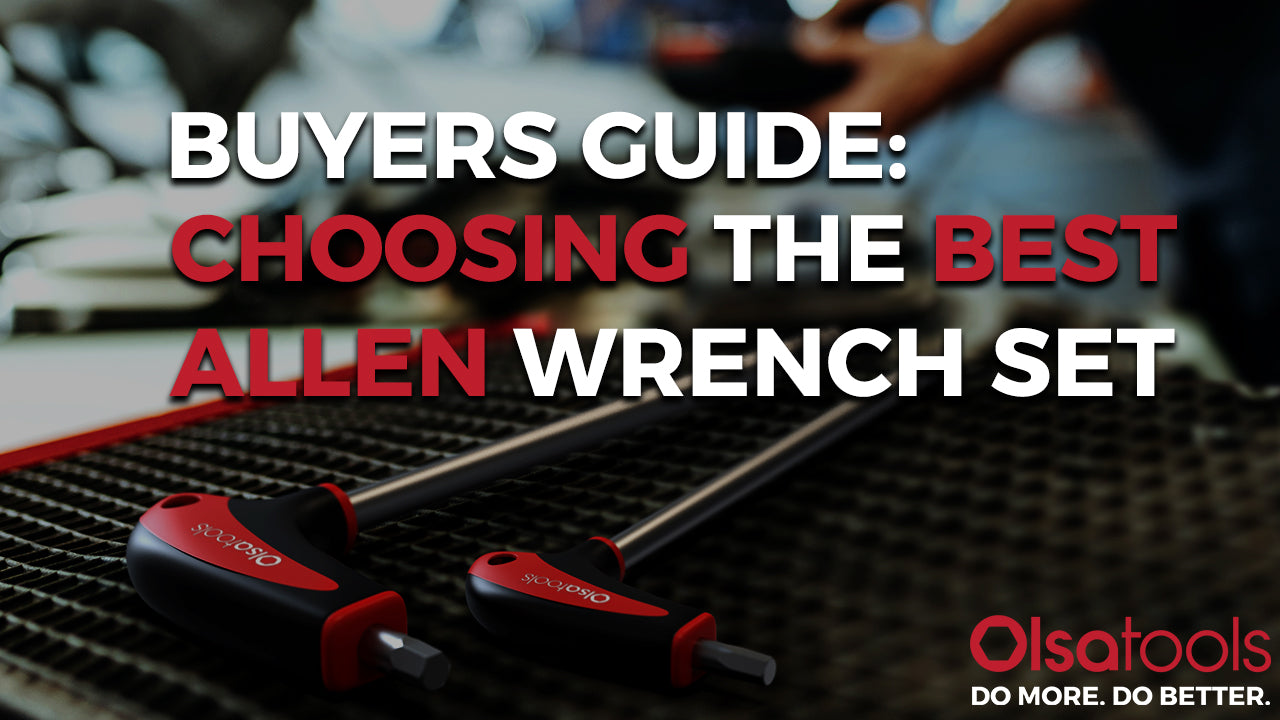 Hex fasteners are frequently an everyday tool for mechanics, handymen or DIYers; this is why owning a reliable set of Allen wrenches (AKA hex keys and hex wrenches) will help you to tackle any job. See what makes the best Allen wrench set by reading through these features and ensure your next set has them. 
What Are Hex Keys Used For?
Different from the typical phillips fasteners, this tool is used for turning bolts and screws with a hexagonal fasteners. Allen wrenches can have a few different types and vary in how they are designed. The regular or extractor hex key is the most common type, however, you can get a t-handle hex key which can be better due to their ergonomic handle that gives you more control and power, plus their differing lengths, hex ball end and array of included sizes can make it easier to get your job done.
Benefits Of A T-handle Wrench
The handle design of this type of wrench allows you to spin the wrench quickly while delivering extreme torque on the fastener when is used. The Olsa Tools t-handle hex key set also features soft-touch TPV dual-material ergonomic handles that are convenient for when you need more torque while reducing hand fatigue. These wrenches are a solid choice and will be a great addition to your toolbox or drawer.
Features To Look For In A T-Handle Hex Key Set
Good Variety Of Sizes
With the Olsa Tools Allen wrench set you have the most common metric sizes included (2-10mm) that come in a plastic tray for you to easily keep organized. The clear size markings on the shaft and on the tray make it easy to identify the sizes of the tools.
Long Ball Ends 
These ball-ended hex keys are becoming an increasingly popular choice among professional mechanics, thanks to the range of angles that you are able to work at. The long shaft end has a ball end which dramatically increases the range of positions that the tool can be used in, making it ideal for tight spaces.
Material And Finish
Before investing any of your hard-earned money in the best allen wrench set, make sure to look for professional-grade materials that give you the peace of mind of knowing that you're tool will last for many years. Our t-handle hex key set is engineered with SVCM steel which is more resistant and offers a greater torsional strength from those wrenches made from Chrome Vanadium (Cr-V) steel. The steel shafts of the tool are coated with a chrome finish to prevent rust so that they will looks great for a lifetime! 
The best Allen wrench set is one that you can trust and comes in handy when working on a wide range of hard tasks. Having all these features is an indicator of both durability and professional design which will save you time and frustration. Our t-handle hex key set offers all of these features and comes with a limited lifetime warranty, 100% satisfaction guarantee and are backed by a 30-day risk-free return period. 
Shop Our Professional Allen Hex Keys