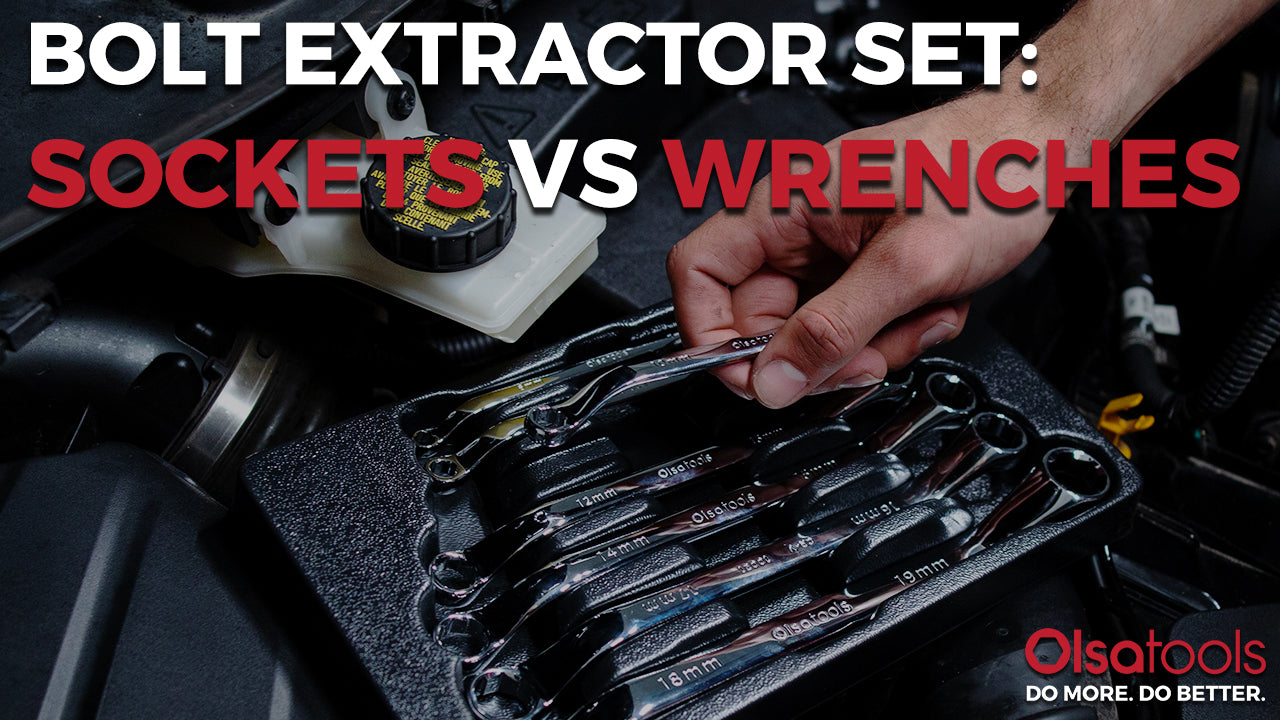 If you're a mechanic or technician, you know the frustration of having rounded, damaged or stripped fasteners. So, if you need a tool for easy removal of bolts and want to do it like a professional, you need an extractor tool. You can find different types to choose from; they can be either wrenches, rings, or sockets. The best bolt extractor tool is one that works, and does it job without failing, so we're going to talk about wrench and socket extractors which are 2 of the most common you can find in the market. 
Bolt extractor wrenches can work as regular wrenches, but also feature an extractor design that makes it easy to remove damaged, rusted or rounder bolts, meaning that you get 2 useful tools in one. The Olsa Tools extractor wrench set has this unique extractor design which is exclusive at Olsa Tools, the gripping teeth are engineered to remove up to 80% rounded-off nuts. If you are looking for durability, this wrench set has your back. The tool is built using industrial-grade Chrome Vanadium (Cr-V) steel, is chrome plated and polished to perfection, delivering lifetime durability under the most heavy-duty environments. 
The 6-point box end design is engineered to keep the load off the corners of fasteners, which translates to having less chances of causing fasteners round-off when high torque is applied. With this bolt extractor set you'll have the right tool to work on multiple projects and remove those pesky fasteners. Their 45 degree offset of these wrenches is great for working in really tight spaces and also feature easy-to-read stamped sizes so that you can quickly and easily identify the wrench you need for the project. If you are looking for a multifunctional tool, tool truck quality and limited lifetime warranty, this wrench set is right for you. 
Bolt Extractor Socket 
A bolt extractor socket is another great option for removing rounded or stripped bolts. These types of extractor tools are both impact-resistant and can be used with impact tools, they can also be chrome plated to work with ratchets. They meet all the features to make it easy to remove stuck, rounded, and rusted nuts and bolts that you simply can't turn with a regular socket or wrench. Some brands offer multifunctional extractor sockets that are built to work with either a ratchet or impact wrench.
Source:

 
https://www.toolsource.com/
How do they work? The spiraled and tapered design in the interior of the socket gives the gripping power and torque strength that are necessary to remove rounded-off and damaged fasteners. This bolt extractor tool can be your best bolt extractor set if you want to complete the job with ease, however, as they need to be used with impact guns or ratchets, they might not give you the optimal performance you need for working on really hard-to-reach and tight spaces. 
What's The Best Bolt Extractor Set? 
The statement of "what is the best tool" is hard to answer as this will change for everyone depending on their needs and the type of work that they do, but finding one that works best for you is the priority. If you are a professional mechanic, it is more likely that you need a wide range of items to work on any project that comes to your hands, so having multiple sizes of both bolt removers might be a great idea. 
On the other hand, if you want to make the best out of your hard-earned money, having a bolt extractor wrench that functions as a regular close-end wrench and includes a convenient extractor mechanism is your best option. The Olsa Tools Offset Bolt Extractor Wrench Set exceeds DIN standards for box-end wrenches, is designed with professional use in mind and can be used for many years to come . Finally, you'll get more peace of mind with your purchase because they come with a limited lifetime warranty and 100% satisfaction guarantee, and 90-days risk-free returns. 
Shop Our Bolt Extractor Wrenches & Other Tools